Alumni Profile
Young Alum Builds on Valuable Relationships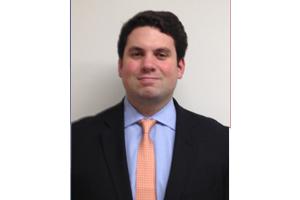 Rich Golaszewski, Kogod/BSBA '07, has aspired to achieve since he first came to American University in 2003 as a freshman from Philadelphia.

He used that drive to launch a professional career in financial services. Golaszewski works in New York as a vice president at Nomura Securities International—a leading global investment bank—in Equity Derivatives sales and trading.
 
"The encouragement to go above and beyond has been especially valuable," he said. "At Kogod, I learned the art of networking and the value of relationships, which has proved extremely beneficial in my career."

On October 20, Golaszewski will receive the Rising Star Award, which recognizes young alumni who are already making significant contributions to greater society through professional or philanthropic work.

"I am deeply honored to receive this award; it truly means a lot…I continue to try to spend my free time on things that I really care about, and Kogod is at the top of the list," Golaszewski says.

Golaszewski found his niche on campus through academics and a range of student leadership activities. Participation in the Student Managed Investment Fund (then the Kogod Finance Group) was particularly impactful. Gaining valuable skills in investment management and the stock market aided in building industry knowledge, and the leadership roles built softer traits such as public speaking and organization.

For Golaszewski, peers were mentors. He says, "The outgoing student body always had you thinking how you could do more to better your chances at landing the job you wanted, and this really resonated in me and motivated me to explore different industries through internships and challenging coursework."

Golaszewski has found meaningful and lasting ways to give back to the university. Last fall, he helped conceptualize and launch the New York Finance Network, a new affinity group open to American University graduates working in the finance and real estate industries.

Golaszewski regularly connects with current students, offering guidance and advice about making the most of their time on campus and beyond.

He also has demonstrated his leadership through financial support of the school, and is encouraging others to do the same by serving as a signatory on the recent solicitation for the Kogod Dean's Fund that was sent to nearly 1,500 fellow supporters.

Golaszewski's Kogod relationships are very personal. He is the proud older brother of Jesse Golaszewski, Kogod/BSBA '12, and is newly engaged to a fellow alum, Shannon Westfall, Kogod/BSBA '07.