Alumni Success Story
Former Inspector General Shares Nostalgic Side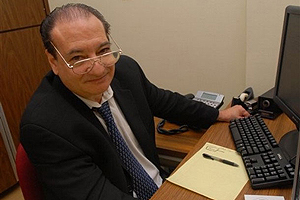 Robert A. Cerasoli, SPA/BA '69, recalls fondly the first trip he and his mother made to D.C. together in her '59 Chevy "with the wings on it," for him to attend AU.
"My very first day when we pulled up, I met Richie Amano and his family, and we've been friends ever since."
You would never know it from the friendly, nostalgic demeanor of this year's Alumni Achievement Award winner that he has spent much of his career investigating waste, fraud, corruption, abuse, and the other less-than-desirable behaviors that seem to find their way into the underbelly of politics and government.
Yet Cerasoli's strong moral compass has led him to be known in circles far and wide as one of the most hard-working, honest, and dedicated public servants one could ever want. His resume speaks for itself.
He served in Massachusetts' House of Representatives from 1975-1989, exposing the prison program that allowed convicted murderer Willie Horton to commit additional crimes while on an approved weekend furlough. Cerasoli was unanimously chosen as Massachusetts' Inspector General in 1991, during which time he uncovered construction shortcuts that led to one person's death in Boston's infamous Big Dig tunnel project. He founded the Association of Inspectors General in 1996 – serving as its president for six years and chairing its Ethics Committee. And he was unanimously selected to become the first Inspector General of New Orleans in 2007 – a post he reluctantly gave up last winter so he could take care of some personal health setbacks he notsurprisingly refuses to let get the best of him.
"The four years I had at AU were fantastic," he says.
"I have friends for life that I developed. I'm in regular touch with my roommate from my first year in Letts Hall, Richard Amano, SPA/BA '69, and I stay in touch with George Whitehouse, Kogod/BS '69, John Cimko, SPA/BA '69, and Tim Reed, SIS/BA '69, who married Winifred Owen, SIS/BA '68, SIS/MA '71. The friendships that were forged that first year with all these people have continued far and beyond."
Cerasoli says he is "overwhelmed and deeply honored" to receive this year's alumni award for distinguished professional accomplishments. "My American University experience has meant a lot to me over the years. It enriched my life. It's something that I'll always deeply value."
That's high praise from a man who's built his career on upholding strong values.
Having attended a large high school in Quincy, Mass., Cerasoli says he might have never made it to college were it not for an encouraging social studies teacher who suggested he apply to AU.
"I told my guidance counselor I wanted to go to college," he says. "But when I said my dad was dead and my mother was a beautician, they said "people like you don't go to college."
An undeterred Cerasoli, who was VP of his high school class, ignored the dispiriting comment and filled out all the forms. "I did all the work on my own. My mother didn't even know this was one of the schools I applied to," he remembers. So, when he got accepted to AU, his first-choice, he was elated.
Now, this year's Alumni Achievement award winner looks forward to sharing his pride, excitement – and memories – with his 23-year-old daughter and 26-year-old son, who will accompany him on this latest trip to D.C.
His dear friends will be waiting to see him, too. "George (Whitehouse), Richie (Amano), and I are chairs of our 40th reunion, and I have a bunch of other events to attend," he notes of the many activities that will keep him smiling over Alumni Weekend.