Alumni Profile
Romone Penny '08 Shifts From Student Athlete to Financial Consultant to Athletes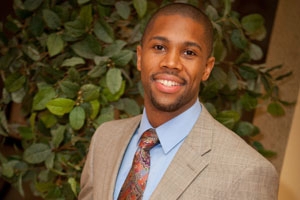 Romone Penny, Kogod/BSBA '08, is living out his dream. Earlier this year, Romone left his job as a tax accountant with Ernst & Young to start his own firm, Pursuit Sports Group. Now, Romone spends his days counseling professional athletes on financial stability and wealth accumulation. Pursuit's motto, "Developing your end game now," is a window into what Romone focuses on in counseling clients. 
Inspired by the alarmingly high rate of professional athletes filing for bankruptcy, Romone has combined his love of sports with his passion for business and is working to make Pursuit Sports Group the place for athletes to turn for strategic advice. Additionally, his goals include bringing educated athletes into the community to serve as role models for children and fans who also need to hear the message of the importance of financial stability. 
A successful athlete himself, Romone understands the mentality of his clients. Romone played basketball during his time at AU and was on the team that took AU to its first NCAA Tournament in 2008. A transfer to AU from Florida State University, Romone was drawn to AU by the prospect of focusing on his role as a student athlete. He credits his passion for accounting to the late, beloved AU professor Sue Marcum, and says that she was very influential in his career and inspirational as he has begun this new venture. 
Currently, Romone is in the process of building his client base and establishing strategic partnerships with other organizations. He is working with several NBA and WNBA clients and is exploring ways to expand his reach. Like at any new firm, Romone's typical days consist of meetings, calls, research, and presentations. But, having a passion for the topic makes the days go much faster, he says.
When he isn't pounding the pavement for Pursuit Sports Group, Romone is focused on giving back to the community in a personal way. He volunteers his time and energy to plan and execute 3-on-3 basketball tournaments twice a year to benefit Capital Partners for Education. The tournaments are opportunities for Romone and his clients to give back to the community. Held twice a year, the tournaments typically draw well-known local athletes.
"My goal is to grow the tournament into such a well-known event that we can hold it at Bender Arena on AU's campus. I'd love to have AU be a part of this," says Romone.