Alumni Profile
Booeymonger Owner Leads by Example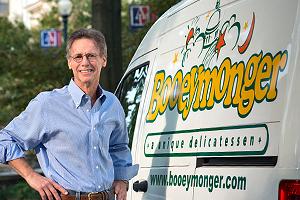 For Ron Vogel, CAS/BA '72, the lessons of running a business came as a student on the campus of American University.
Ron owns Booeymonger, a thriving D.C.-area delicatessen that cooks up specialty sandwiches fresh to order. He stays busy serving as what he describes as a "cheerleader/ motivator/repairman/traffic controller" for each of the deli's four locations—the original in Georgetown; Friendship Heights; Bethesda; and Ballston, the newest.
Owning a restaurant is not the first job he had in mind. When he came to AU, Ron set out to follow in the footsteps of his father and brother, who were dentists. However, science coursework did not prove to be his cup of tea, and a conversation with then-associate dean Ruth McFeeter changed his outlook.
"She told me, 'Do what you're good at, instead of what you think you should be doing,'" Ron recounts. What he was good at was the food business. He found a home at 97 Carry Out, a student-run carry-out service on campus. He began working there his first year of school in 1968, and by 1970 ran the entire operation.
What Ron experienced there laid the foundation for the rest of his career. "It humbled me," he says, with particular reverence for his fellow workers who served food directly in the dining halls. "They had a certain respect for the job, a certain respect for the students. It gave me a good sense of what hospitality is all about," he says.
A guiding principle that Ron lives by is treating all of his employees as if he worked for them. He has a clear philosophy on leadership. "There are two ways to motivate people," he explains, pausing to set up the contrast. "You can give them more money and more input on decisions; or you can work alongside them." Moments before uttering these words, Ron jumped up to assist a patron with a stroller entering his restaurant.
Booeymonger also has provided Ron with a natural outlet to stay connected to AU, primarily through the athletic department, which he passionately supports. Feeding athletes at countless sporting events sparked a close relationship with the basketball team in particular, with whom he occasionally travels.
A one-time AU basketball player himself, Ron's genuine admiration for student-athletes is obvious. "Whenever I talk to them, they want to ask me about my experience in business, but I want to know more about them!" he exclaims, his face lighting up. What inspires Ron the most about college athletics is the incredible amount of work the students put in to be successful both on the field and in the classroom. "I have such an appreciation for what they do."
As his restaurant hours become less intensive, Ron looks forward to spending more time volunteering at AU. He remembers fondly an occasion when he spoke to a class of business students, and he hopes he will get the opportunity again. In addition, he could see himself one day as a guide for Discover DC, a program that introduces new students to sights around the city. In whatever capacity he gives back, Ron will always cherish the personal interactions and most enjoy "dealing with students, helping them get involved."
Ron will be honored with this year's Alumni Eagle Award, given to alumni who have rendered outstanding service to the university, the alumni association, or both.