Alumni Success Story
Sade Oyinade is Getting Ready for Her Close Up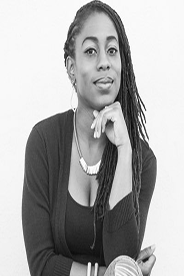 Sade Oyinade, SOC/BA '02, could have attended any school in the DMV area where she grew up, but her burgeoning love of filmmaking led her to AU's School of Communication, where she studied Film. "Being the child of Nigerian immigrant parents, there's kind of this pressure to ascribe to a more 'rational' goal like [being] a lawyer or a doctor. But once I figured out that telling stories is what I wanted to do, I stuck with it," she says.
Sade used the "good foundation" that she gained at SOC and moved to Los Angeles to gain on-the-ground experience in the TV industry. After long, hard hours spent as a production assistant on shows like America's Next Top Model, Sade got a call to join the production staff of the BET hit docu-series American Gangster. "I was complimented on the skills I gained from AU, like researching our interview subjects. It brought [a richness] to the story that we were trying to make," she says.
Sade grew fonder of the storytelling aspect of TV, so when the opportunity to serve on the production staff for the TV One flagship show Unsung arose, she gladly accepted the opportunity. A docu-series that profiles some of the most influential, talented yet underrated R&B, Soul and Gospel artists of the 1970s, '80s and '90s, Unsung became a hit and gained five NAACP Image Awards for Outstanding News/Information Series.
When she's not producing Unsung, Sade's busy writing and producing her second short film, Yemi's Dilemma. A story about sisters conflicting over tradition and love, Sade sees this as an opportunity to create the kind of material she wants to see in theaters and to provide a platform for the West African culture, specifically Nigerian culture. "I just wanted to give an opportunity to have West African actors and culture be at the focus of a movie. Diversity is very important, but we have to take it on ourselves to produce the content we want to watch." Her advice for those wishing to make the leap from AU to Hollywood? "Prepare to work very hard. You have to believe in yourself over anything else, because that's what you're going to need to keep yourself going. It's possible, and it's in your reach. You just have to work for it."