Alumni Success Story
San Diego chapter leaders have much in common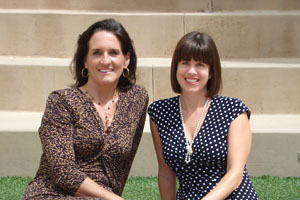 It seems alumnae Kim Edwards, SOC/BA '90, and Brook Williamson, SOC/BA '96, were destined to meet, even though they didn't know each other while they were students at American University.  Both graduated from the School of Communication, both pursued careers in television news, both settled in San Diego, and, after many happy years in broadcasting, both made the transition to public relations.  Though their paths crossed several times professionally, they didn't make the AU connection until both accepted jobs at the University of California, San Diego.

Edwards and Williamson first met when Edwards was covering a health story for the ABC affiliate in San Diego.  She contacted Williamson, who had just left a producer position at the NBC affiliate to be the media relations specialist at Rady Children's Hospital.  They struck up a professional relationship, but their friendship didn't develop until years later, when they found themselves sitting in a communications team meeting at UC San Diego.  Williamson is now the Senior Director of Chancellor Communications, and Edwards is Senior Public Information Officer for UC San Diego Health Sciences.

"After 17 years as a reporter, not much scares me. But being brand new to PR and brand new at the university was, at times, overwhelming. Then I realized that I knew someone in the room who 'got it'," said Edwards.  "Brook made my transition smooth and fun."

Margaritas at a local haunt followed, and the two realized their similar career paths. They'd faced many of the same challenges and rewards in moving from television news to media and public relations.
 
"It was such a great feeling to know that someone else understood what it was like to leave the family experience of a television station and start on a new career path," said Williamson.  

Much later, Edwards and Williamson realized they shared the same alma mater. 
Edwards remembers, "She asked where I went to college and I said the east coast.  She asked where on the East Coast and I said D.C.  She asked which school in D.C., and I said American.  By the look on her face, I knew immediately that AU was her alma mater too! We couldn't believe that we had so much in common."

In addition to working together at the university, the pair has established an American University alumni chapter in San Diego.

"The minute Brook suggested we resurrect the AU-San Diego connection, I agreed," said Edwards. "She's very organized, probably the only thing we don't have in common, and I'm good at rallying the troops!"

"It'll be a blast meeting up with more alumni!  And it's quite fitting.  After all, AU did a fabulous job of educating us to be effective communicators," added Williamson with a smile.