Alumni Success Story
Sarah Gray's Journey from AU Grad Student to Author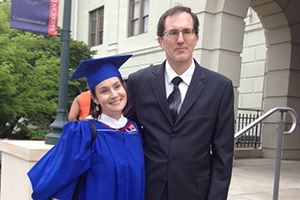 Sarah Gray, SOC/MA '14, began her program like many other students in the public communication cohort at the School of Communication. Her company at the time offered her tuition reimbursement, and she thought it was the perfect opportunity to go back to school to gain valuable skills.
Halfway through the program, Sarah experienced another life change – getting pregnant. Unfortunately, one of Gray's unborn twin sons was diagnosed with anencephaly, a terminal condition. After son Thomas died as an infant, Sarah and her husband were able to donate his organs, eyes and cord blood for medical research. Sarah later embarked on a quest to meet each researcher who received Thomas's donations and ask them what they learned. She was comforted and amazed by the impact these tiny donations had on the medical field
"Later, when I returned to class, Professor Graf asked us to write down our dream jobs. I wrote down that I wanted to do communications for an organ donor organization. I decided to do my capstone on non-directed kidney donation," Gray said. She ended up interviewing 10 people who chose to donate a kidney to a stranger.

Her final course was an independent study based around the creation of a nonfiction book proposal about her quest. This proposal ultimately landed her an international book deal with HarperCollins. Her medical memoir, A Life Everlasting: The Extraordinary Story Of One Boy's Gift To Medical Science, was published in September 2016. The paperback edition will be released in September 2017. Her story has been featured in numerous media outlets, including RadioLab, the Philadelphia Inquirer, a TED Talk, CBS News, the Associated Press and the Moth Mainstage.
Gray maintains a selfless spirit, saying, "People will tell me I'm brave. I'm not brave. Brave is when you know something bad is going to happen and you choose it. If I had known this was going to happen, I would not choose this. But I did learn to respect science more, and be more interested in science. And I learned about how many people's lives are saved by transplants," she stated in a previous interview with AU.
Sarah's book is a testament to her experience with organ, eye and blood donation for research donation and a helpful resource to others seeking information on the subject. Sarah's book brought about several memories of her time at American University, and she credits the SOC program for allowing her to examine her interests. "[My advice is] to take advantage of every opportunity that comes your way in school, but to also remember your interests. Think about what you want to study if you didn't have to study."
Her experience at American University is mentioned in the book, and Professor Graf is thanked in the acknowledgements. As she turned her studies into a book and fuel for her professional life as director of communications for the American Association of Tissue Banks, she remembers how she got there. "American University and my School of Communication professor Joseph Graf really allowed me to pursue my passion."