Alumni Success Story
Scott Silvester brings back music television with Mixtape Nation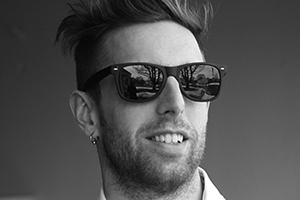 Remember when MTV used to play music videos? Besides Pandora, Spotify, and other streaming services, how do you discover new bands and music?
American University alumnus Scott Silvester, SOC/MA '14, wants to get you out of the same old music rut with his music-television show, Mixtape Nation. The show is a platform for bands to promote themselves and airs on WMCN in Philadelphia. Mixtape Nation is a combination of live performances, interviews, and occasionally music videos. A few of the bands have even gone on to get record deals and release albums.
Scott decided to become a music producer after graduating with his master's in film and digital media from American University's School of Communication. He says, "I absolutely came out of AU a different person. Professors and peers who seemed fearless surrounded me. It's great to be in an environment like that, but it's especially great as a filmmaker. I could see people actually make their visions come to life. And they did it by not limiting themselves." 
Scott worked in the TV industry before attending American, but he says he realized he was always working on someone else's dream and wanted to see what he was capable of doing on his own. "Outside of AU there is this attitude of considering the obstacles immediately after conceiving a cool idea," he says. "That wasn't in the equation at American. We were taught to worry about the obstacles as they come and to let ourselves breathe and brainstorm before shooting down ideas. We were taught to have confidence that we can make anything happen and to not worry so much. It's a total shift in thinking. That attitude sticks with me to this day."
Scott has a few other projects in the works, most recently a talk show he produced called The Spark, which airs on a PBS channel, Y2 in Philadelphia. Scott is also putting together the second season of Mixtape Nation. He's excited how much the show has grown and the attention it has received from other big name acts. Scott says, "American University changed my perception of my own limitations, so my attitude now is to just go for it and see what happens."
To learn more about Mixtape Nation, visit the show's Facebook and YouTube page, or check out The Spark's Facebook page to view Scott's other TV talk show.