Alumni Success Story
SIS Alumna Helps to Raise Funds for Small Nonprofits in NYC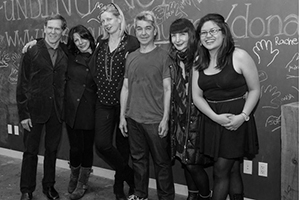 Having the unique privilege to meet and work with people from around the world with fascinating lives is the best aspect of her work, says Dana Williams, SIS/BA '86.
When the economy declined a few years ago, the real estate professional sought other sources of income and experience. Through her search, Dana discovered The Funding Network USA (TFN) New York and enthusiastically approached the organization on various occasions to serve on their team.
Beyond the hardships that came as a result of the economic downturn were glimmers of sunshine, Dana says. "I realized how drawn I am to supporting grassroots projects with positive, sustainable solutions to complex problems," she adds. She serves as project director for TFN NY in addition to maintaining a successful real estate career with Sotheby's International Reality and acting as vice chair of the Greenwich Village Society for Historic Preservation's Brokers Partnership.
TFN is a global organization that hosts live crowdfunding events on behalf of grassroots, social impact non-profit organizations. The first organization to benefit from TFN's fundraising work is Harlem Grown, a small non-profit with a mission to inspire youth in Harlem, N.Y. to live healthier and more ambitious lives through mentorship and hands-on education in urban farming, sustainability, and nutrition.
Dana has also served as a board member for Habitat for Humanity NYC, as gala co-chair and mentor for Children's Aid Society and volunteered at the 1st Tribeca Film Festival.
Dana was attracted to AU's School of International Service mostly because of her lifelong intrigue with Keyna. "SIS encouraged a study experience abroad, so I chose to study in Kenya for a semester," she explains. "Going to school in Washington, DC was an exceptional opportunity that I never took for granted."
Dana's memories of her undergraduate experience are certainly fond. "I remember a small group of us meeting at the Tavern after Professor Duncan Clarke's energetic and inspiring lectures to simply talk about the world," she shares. "Some of my activities included mentoring and interning on Capitol Hill with an organization that lobbied for U.S. sanctions against the South African government."
From showcasing an apartment with a balcony overlooking Central Park to traveling to Harlem Grown to coordinate TFN's summer event which they will host in its garden, no two days are ever the same for Dana.
Regardless of how busy her days get, Dana says always has time to stay connected with friends from AU. "I made the most valuable and lifelong friendships at AU," she says. "I have a core group of close friends from AU that live in Australia, California and nearby."