Alumni Profile
From AU to Cannes: Alumna Sonya Dunn Thrives Behind the Camera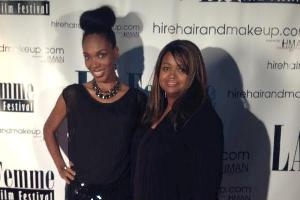 Sonya Dunn, SOC/MA '13, just returned from the Cannes Film Festival where her short film, The Bedroom, was screened. It is the first AU student film to be screened at the prestigious event.
"It was a once in a lifetime opportunity. I learned so much from the experience, and I was able to network with other production companies and discuss possible collaborations," she says.
The Bedroom chronicles a marital relationship and how couples struggle to stay connected. "It's a tragic drama about everlasting love and overcoming obstacles and tragedy. Everybody's in love and miserable at the same time."
Filmmaking has been a lifelong fascination for Sonya. "Ever since I was little, I've always had the desire to be either in front of the camera or behind the camera. In college [at the University of Central Oklahoma], I learned about production and post-production. I fell in love with being behind the camera and have been there ever since," she says.
Sonya spent a number of years in the film industry and even started her own production company, JEMH Productions, before pursuing her master's degree in producing for film and video.
She chose AU because, she says, "I wanted to take my career to the next level. I felt American University was a good fit for me to advance my education in the field of media production. I'd always been on the creative side, and I hadn't delved into the business side. [Going to AU] allowed me to attend school and continue working on projects. … [AU has] a gold mine of instructors in our field who give us knowledge to expand on our experiences."
Professor Russell Williams – a two-time Oscar winner – was instrumental, Sonya says, in her education and helped with the post-production of The Bedroom. "With him, I was able to take my [post-production] skills to another level and understand the true collaboration of editing and sound in film. That alone was a priceless lesson for me to learn."
"Being at AU has been a godsend. I've learned so much about the business side of producing. As a filmmaker, we sometimes get caught up in making the film and don't pay much attention to the strategy of marketing the film once it's done. … American University has taught me about the whole collaboration from pre-production to distribution and everything in between," Sonya says.

The Bedroom has an accompanying book that will be released in September, shortly before the film is released. Although Sonya can't talk about her current and future projects in detail, it's clear from her success thus far, she is well on her way to becoming a media mogul.