Alumni Profile
Stephanie Tinsley Regagnon's Path to and from Washington included AU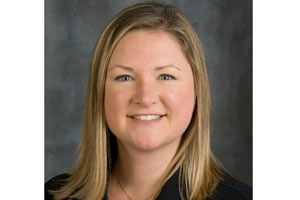 Growing up in Kirksville, Mo., Stephanie Tinsley Regagnon, SPA/MA '02, was never a stranger to the wide open farmlands of America's agricultural landscape. After exploring academic options in law, she found her niche in politics and completed her undergraduate work at the University of Missouri. During a visit to D.C., she heard an AU radio advertisement during a cab ride and the following evening attended an open house for the School of Public Affairs. This spurred her matriculation to AU, and despite her family's desire to keep her close to home, Stephanie traded her car in Missouri for a D.C. Metro card.

Working full-time while she got her master's degree, Stephanie embodied the AU archetype of putting academic theory into practice. "Once I got to AU, I felt like I was doing what I wanted to do. School didn't even feel like school; at that point it's not about college, it's about the rest of your life," Regagnon remembers. In the evenings, she learned about advanced political theory and how it has played out in Washington, and the next morning she applied the teaching directly in her work for the National Cattlemen's Beef Association.
One of Stephanie's influential professors was Pat Griffin, whose experience as legislative affairs assistant to President Clinton shown through in the classroom. Griffin's down-to-earth style and gregarious demeanor drove home the fact that Stephanie, a Beltway outsider, could do this work too. Griffin's successes in bridging gaps between public and private partnerships paved the way for Stephanie to assert her skills in connecting people, ideas, and policies from seemingly disparate communities. 
In her current role as director of sustainable agriculture portfolio strategy at Monsanto, she continues to bridge gaps between local farmers, global tech innovations, and an inquisitive public. Balancing all of the needs and futures of these differing communities is no small feat, and Stephanie continues to rely on one of Pat Griffin's teachings; "Be up front, be honest and be yourself."
Having frank and informed conversations regarding controversial topics is part of Stephanie's critical skillset. Years of having tough conversations around protecting agricultural resources around the globe has prepared her for promoting innovative and collaborative partnerships necessary to moving our collective environmental footprint forward.
Stephanie proudly states the critical role her AU education has played in her successes. Her dedication to education is evident and it continues to be her passion. After a personal family experience with the justice system, Stephanie founded Ava's Grace Scholarship Foundation. Ava's Grace has a mission of providing scholarships for higher education to children with incarcerated parents in the state of Missouri. The foundation currently funds two new students per year, giving $5,000 each of their four years in college or university. "In higher education there are scholarships for twins, diabetics and everything in between. There were no scholarships for children with incarcerated parents. As an at-risk population this was a need that wasn't being addressed. At Ava's Grace we are seeking to change that one child at a time in Missouri." 
Academically, professionally and philanthropically, Stephanie is embodying AU's pragmatic ethos by collaboratively engaging new connections and partnerships, while not shying away from tough conversations.