Alumni Profile
SIRIUSXM Executive Gives Back as Mentor to Current Students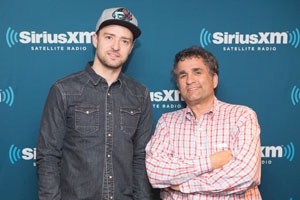 Today the students of American University listen to WVAU, the Internet based student-run radio station. For American University alumnus Steve Leeds, CAS/BA '72, the campus radio station, then WAMU AM, was a second home for him during his formative years while studying at AU in the early '70s and just the beginning of his successful career in the music industry.

Steve reminisces warmly about his time at AU – many life experiences, putting service first, and living in Washington, D.C. during the Nixon administration. He remembers fondly the house he lived in on Wisconsin Avenue his senior year as well as his experiences during the war protests in Ward Circle – even broadcasting live while wearing a gas mask. An avid music fan, Steve proudly shares that The Allman Brothers' Band recorded an album live in the American University gym on December 13, 1970.

Steve, who is now vice president of talent and industry affairs at SIRIUSXM, is an active AU alumnus. In his current role, Steve is part of the department responsible for providing talent for all of the channels at SIRIUSXM. At the office, no two days are ever the same for Steve. His responsibilities range from maintaining relationships with promoters, publicists, and record labels to coordinating times and talent from New York to Nashville, Los Angeles, Cleveland, and Washington, D.C.
Even though Steve's job can be demanding, he continues to serve as a dedicated alumni volunteer and mentor to numerous SOC students. He is passionate about giving his time freely in an effort to provide students with access to candid career advice. He says he enjoys "sharing insights with students and helping them to see the forest through the trees while they are trying to navigate what to do next after AU."

Steve's involvement reaches beyond personally advising students. He also invites students to his office at SIRIUSXM in New York during the annual SOC site visit trip. SIRIUSXM is always a favorite site for students to attend, and Steve asks his colleagues at various levels in the company to provide them with stories about how they got started in the industry.
Steve continues to pay it forward, acknowledging how instrumental a mentor can be in shaping someone's future. He recalls that his faculty advisor at AU was vital helping him figure out how to turn his passion into a career, including assisting him in creating an interdisciplinary degree track, which is known today as the BA in American Studies, as well as encouraging him to continue on to graduate school at Syracuse University, where he received an MS in television and radio.