Alumni Profile
Steve Wieckert
Alumnus is Organ Donation Trend Setter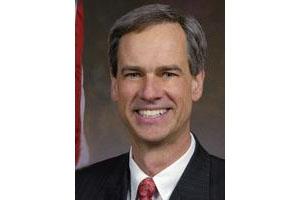 Growing up as a fourth generation Appleton, Wisconsin citizen, Steve Wieckert, SPA/BA '78, SPA/MPA '81, loved his hometown but sought to expand his horizons during his college career. After landing a critical internship in Wisconsin Congressman Tom Petri's office, Steve's knowledge and love of effective legislation solidified.
Years later he was given the opportunity to return to Appleton and put knowledge he had learned in Prof. Bernie Rosen's class to work in his community.
As a Wisconsin State representative for District 57, Steve fought tirelessly to protect the public health of his constituents. One issue Steve tackled head-on was the bureaucracy and inefficiency surrounding organ donations. He remembered Bernie Rosen's concept of the Iron Triangle, wherein a worthy cause, legislature, and executive backing had to work in harmony for effective policy to pass.
Research shows that 95,000 Americans nationwide are on organ donation waiting lists and 6,000 die each year due to a lack of available organs. Steve saw an opportunity to provide better tax incentives for the travel and expenses associated with such a physically serious donation, and he believed that "the person donating shouldn't have to pay any out of pocket expenses." He now had his cause.
Legally, there were countless taxation hurdles to jump though. "There are so many rules and regulations you can get tripped up on," says Steve. Steve says his time at AU taught him the importance of solid networking, and he had a reliable team of fellow public servants to aid in his cause. Former Wisconsin governor and then-Secretary for the Department of Health and Human Services Tommy Thompson put Steve in touch with the Justice Department to review his legislation. They received the affirmation of "I don't see why you can't do that", and Steve and his team rejoiced. After months of review, "we found a way to navigate and comply with all the rules."
While Republicans and Democrats don't always see eye to eye, Steve says this piece of legislation was a "slam dunk" for all. Bipartisan support gave "Cody's Law" the backing necessary to complete the Iron Triangle's triumvirate.
After this groundbreaking precedent was set, it became a national trend. Other states faced the same issues, and "they needed a model, an example, a template that would work". Steve's successes resulted in 26 other states jumping on the bandwagon to help incentivize their citizens' organ philanthropy, and Wisconsin saw a dramatic 20 percent increase in organ donation.
Steve, who "leads by example" with his own fitness, says his motto has always been, "If you believe in what in your doing, you've got to keep trying". To that end, he recently qualified for the Boston Marathon with a time of 3.37 hours and plans to swing by campus and connect with students on his way to run next April.