Alumni Success Story
Students featured in CNN's We Will Rise film visit American University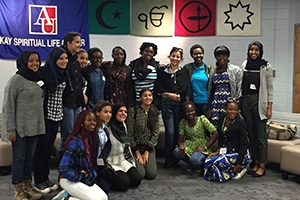 Fighting for Access and Finding Belonging. Forward Ever, Backward Never. Dream Chaser. These are book titles imagined by a group of students who were recently in Washington as part of Michelle Obama's Let Girls Learn initiative. The students, from Morocco and Liberia, visited American University and met with students from the same regions of Africa that they call home. 
The young women, featured in the CNN film We Will Rise, were invited to Washington to celebrate International Day of the Girl. They visited the White House for the film's first screening with Michelle Obama. "It was such an emotional moment for them to sit there and see their story being told and being publicized to the world," said Tania Jazynka, CAS/MA '14. "Being shown on CNN, to see themselves on TV, their homes, schools, families showing what they go through, was really an incredible moment for them."
Tania, who organized the students' visit to AU, works for a local organization that partners with the US State Department. They come from cultures where girls are often denied education because of finances or cultural traditions, and Tania says the girls who came to AU were fortunate to have special access to women who had come from circumstances not unlike their own.
Fanta Aw, Kogod/BSBA '90, SPA/MPA '94, CAS/PhD '11, led the group in an exercise imagining what the stories of their lives could be. She shared with them about her own experiences growing up in Africa and coming to the US, where she has spent nearly 25 years at AU. "I have the best job in the world," she proclaimed to the group. "And we have the ability to change our destiny. The past doesn't have to define us."
Tania, who appreciated the opportunity to reach back and partner with AU, says, "Dr. Aw inspires me every day so the least I can do is spread her inspiration."

AU students who spent time with the visiting girls talked about student life on American University's campus and also found the experience personally enriching. "At every step of my education, I opened a new door. I discovered so much…I began to understand that was my goal in life, to get other women to open more doors," said Bari Fanso, a second-year graduate student at the School of International Service.
Tania hopes the girls' exposure to the kind of educational opportunities available to them will inspire them to continue their pursuits. "We're trying to build bridges of understanding between people around the world," she says. "That's why we do what we do."