Alumni Profile
Legal Eagle Utilizes AU Education to Establish Domestic and International Niche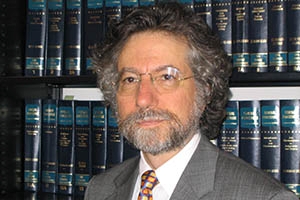 Philadelphia attorney and Kogod class of '71 alumnus Theodore "Ted" Simon is having a wonderful career. Among other achievements, he has obtained reversals in the Pennsylvania and United States Supreme Courts. In addition to his longstanding successful representation of individuals and corporations locally, nationally, and internationally in state and federal trial and appellate matters ("white collar," "blue collar" and "no collar") he is a recognized authority on the subject of international extradition requests, and he has provided advice and counsel to multiple Americans abroad who have found themselves in challenging legal straits.

Accordingly, while accomplishing these achievements and elevating his law practice into a respected national and international niche – he also has become a "go-to guy" for advice and adept handling of high profile media driven cases - where he credits his AU experiences for assisting him to consistently achieve and maintain success.
After graduating from AU, and later, Temple University Law School, Ted joined the National Association of Criminal Defense Lawyers and began to exercise his passion for litigation and criminal law. His drive, focus, creativity, and comprehensive approach eventually earned him a listing as one of Philadelphia Magazine's "Best Lawyers in Philadelphia;" a selection as a "Pennsylvania Super Lawyer," and an invited membership in the National Trial Lawyers Organization (a group composed of the top 100 trial lawyers from each state).
Additionally in 2012, he was sworn in as first vice president of the NACDL, a position he relishes because it allows him to play a more specific part in ensuring justice and due process and at the same time recognizing the important and noble work of criminal defense lawyers around the country.
Communicating his passion for justice and due process is another of Ted's many talents. His most recent appearance, as a guest on CNN and Soledad O'Brien's "Starting Point" is a case in point. On the show, Ted presented an articulate and seasoned perspective on the complex legal considerations surrounding bail for Paralympic sprinter Oscar Pistorius – who is currently accused of murder in South Africa.
He told O'Brien that Pistorius was a good candidate for bail. He is called upon as a legal expert by honing his speaking as a sought-after speaker for legal seminars across the nation and his numerous on-camera appearances on all major networks and shows including NBC's The Today Show, ABC's Good Morning America, CBS's The Early Show, Larry King Live, Oprah Winfrey Show, ABC's 20/20, and NBC's Dateline.
As a result of his recognized communications skills and legal ability, Ted's client list has included Michael Fay (Singapore caning), Amanda Knox (college student acquitted of murder in Italy), boxing promoter Don King, Gregory Porter (college student accused but all charges dismissed in 2011 protest in Egypt), Chipper Jones (civil defense), New York real estate heir Robert Durst (favorable resolution of federal firearms offenses in Pennsylvania after acquittal in Texas murder and dismemberment case), NBA forward Dante Cunningham (dismissal of alleged drug and other criminal offenses), Drexel's starting guard Derrick Thomas (dismissal of assault charges) as well as other clients involved in high-profile legal matters.
Ted credits AU for helping to provide a solid academic foundation for his success. He says, "I was just 16, leaving home for the first-time, and the American University environment, the teachers and classmates, soon to be life-long friends could not be more warm, welcoming and supportive. In hindsight it provided the absolute perfect opportunity to grow, excel academically, and provide a rich and enduring network of beloved friends that began the first day and happily remains so today."
When asked about how he feels about the practice of law after nearly 40 years, he answered, "I feel the same, but more so - it is a gift to be a lawyer, providing care, assistance, and representation in some of the worst of times, whether a person is criminally facing loss of liberty or civilly and entitled to redress and compensation."
In response to Ted's appreciation of American University and for all the university has done for him, Ted recently offered his network, time, and support in assisting with planning of an alumni engagement event in downtown Philadelphia. The event was a resounding success due to the participation of Ted and other alumni.
While the law is clearly his personal and professional passion, Ted's continued relationship with his AU Zeta Beta Tau brothers is primarily a personal passion. He says "primarily" because privilege and privacy protects their confidentiality as even here he has been called upon professionally in "life-altering situations." Ted couldn't have been happier "to have their back when they needed it most."
His relationship with the "ZBT Powerhouse of Excellence" brotherhood began when he attended AU and has only strengthened since then. Ted is everlastingly thankful and appreciative of his classmates who have remained truly supportive of his work, accomplishments, and resulting national and international presence in the law.
So the next time you hear the words, "legal expert" mentioned during a news broadcast, pay close attention. It may be that an AU alumnus, by the name of Ted Simon, is about to hold court.