Alumni Success Story
Career Expert Learned Work Ethic from the Ground Up, Literally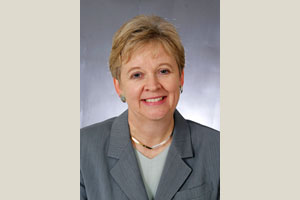 Tobie van der Vorm, CAS/MED '81, CAS/PhD '95, grew up roaming the vineyards of New York's Finger Lakes. The Taylor and Great Western Wineries in the village of Hammondsport were operated by her father, and as a child she had her own vineyard to tend. When she turned 16, she applied for her first job at the vineyards.
Her father hired van der Vorm, and she spent the summer painting the many outhouses – no kidding – that dotted the vineyards' vast acreage. Van der Vorm speculates that this fundamental work experience forged the foundation of her work ethic, where she learned how to work independently and perhaps also where she derived the inspiration for her career in higher education.
Van der Vorm headed south after graduating from Wells College in Aurora, N.Y. and accepted a job as an admissions officer at Hollins University in Roanoke, Va. Often on the road with admissions officers from neighboring schools, she forged friendships with her colleagues, and one winter break when they took a cruise together, she met her future husband, Jaap van der Vorm, the ship's purser. Married within the year, Van der Vorm prepared herself for a life of travel since her husband worked in the hospitality industry. But it was American University's good luck that Jaap van der Vorm found a job in Alexandria, Va., that stretched from six months to 20 years.
She came to AU on a short-term contract in 1975 to work on a U.S. Department of Education grant. Its directive was to collaborate with government agencies and local business to create cooperative work experiences that college students could use to gain practical experience while earning classroom credits; preparing graduates for life after college. As the program grew, so did van der Vorm's career at AU, and although the grant ended, she was invited to stay on. "I really wanted to deliver the city to students," she says.
Van der Vorm was instrumental in creating today's Career Center, working extensively with faculty and representatives of the corporate and public sectors to develop experiential learning and career development programs for students in all AU's disciplines. President Neil Kerwin, SPA/BA '71, then a professor at the School of Public Affairs, was one of the program's earliest champions, along with Professor Jim Thurber; together they lobbied for professors to conduct "field" visits to check on the work their students were accomplishing. Van der Vorm secured more than a million dollars from the federal government and other sources to support development of the Center.
In 1998, van der Vorm joined Academic Search Consultation Service in Washington, D.C., where she recruits presidents and senior administrators for institutions of higher learning. She is a former member of the board of directors of the Association for International Practical Training and of the Howard University Advisory Council for career services, and she is a mentor and founding member of Women of Washington, Inc. She recently completed a term as chair of the Wells College board of trustees. She served as president of the Cooperative Education Association during her time at AU, and as chair of the Wells College board of trustees for several years.