Alumni Success Story
Veteran Cop Turned Fishing School Founder Nets 2009 Alumni Recognition Award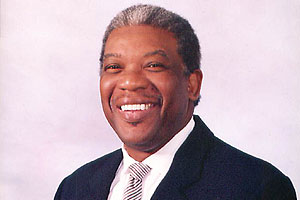 In some ways, Tom Lewis, SPA/BA '75, is accustomed to the recognition. A guidance counselor at the elementary school his children attended was a member of the inaugural class at the Fishing School, a nationally recognized youth development program in northeast Washington, D.C., that Lewis founded in 1990.
Two of the emergency medical technicians who waited with him when he was sick were also Fishing School alumni and remembered him, too. And a young woman on the staff on ABC's Extreme Makeover: Home Edition, which recently completed a renovation of the Fishing School, recognized him as "Officer Friendly" from his days in the community relations department of the D.C. Metro Police.
Lewis will receive kudos of a more formal kind from AU next weekend, when the 2009 Alumni Recognition Award is bestowed upon him at the Katzen Arts Center on Saturday night, October 24. Given to alumni who inspire the world through their service to the community, the distinction is a fitting tribute to a man who is a living legend in Washington-area community service circles.
A 20-year veteran of the D.C. police force, Lewis says walking the streets of the D.C., in neighborhoods plagued by drugs, crime, and broken families, stayed with him. So did meeting more than a few children who asked, "Will you be my dad?"
Lewis says his heart was touched by the work he did with those families. "It turned me around on the inside," he says, and he vowed to God and himself that he would "do something for the lives of people."
The first major milestone came in 1975, when after six years of working days, attending AU at night, and raising three children with his wife, Lewis received his degree. "I was so excited," he says, remembering in particular a special moment when his father gave him the $10 down payment for his class ring.
"I get a lot of credit," he says. "But so many people have helped me." In particular, he thanks his wife, Lucille, who worked many long days doing tailoring and alterations to scrape together enough money for the Fishing School's first-ever batch of school supplies.
In 1984, Lewis became a licensed social worker, and was ordained a Christian minister. His dream to help improve the lives of those he encountered on the streets for 20 years was realized when the doors to the Fishing School opened in 1990, on a block of northeast Washington that was infamous for being "one of the worst streets in America." But the prevalence of drugs and threats only strengthened his resolve. The Fishing School not only survived, but thrived to the point that in 2001, President George W. Bush chose it as the site from which to announce his new Faith-Based Initiatives Program.
"We love to stand next to people who have got vision and good intentions and a good heart, and that's Tom Lewis," said President Bush during the event.
More recently, the Fishing School benefited from a massive renovation by ABC's Extreme Makeover: Home Edition. In an episode to air in November, local home builders, teams of skilled workers, and hundreds of United Way volunteers transformed the formerly 1,900 square foot space into a 6,700 square-foot green facility in partnership with the Department of Energy. The renovation was the largest building constructed during the show's seven seasons and will allow the Fishing School to increase enrollment and expand programming.
The makeover was a fresh inspiration for him, too. "Inside, it's given me a new heart, I'm a new man," he says humbly. "In my work…you learn so many things, to use and share."
Lewis continues his devotion to the families of Washington, even in retirement. He remains actively involved in the Fishing School as a member of its board of directors. And he has served as a vocational counselor at the Hope Village Community Treatment Center, and worked in similar roles at nonprofits and community centers across the city, as a family counselor; family and child services coordinator; and early intervention program coordinator.
Please join us in congratulating Lewis for all his good work.