Alumni Success Story
Travis Lay: From AU Basketball Star to Alumni Board Member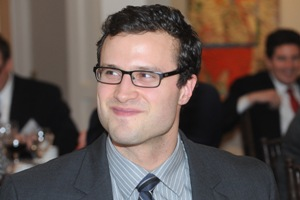 Most alumni remember Travis Lay, Kogod/BSBA '08, as the men's basketball captain who led the Eagles to the prestigious NCAA tournament for the first time in 2008, but Lay is incredibly accomplished both on and off the court. He graduated Magna Cum Laude from American University and continues to give back to his alma mater as a member of the Alumni Board. Lay also embodies the AU spirit of service by donating his time to Year Up, a local charity that provides mentorship to disadvantaged young adults.


Unsurprisingly, basketball was a major factor in Lay's decision to attend AU. "I grew up in Maryland, right outside D.C., so [by attending AU], my family would be able to see me play. I also knew AU had a strong chance of going to the NCAA tournament. … The combination of that and AU's strong academics and business school was exactly what I was looking for."

Lay says the support of the AU community helped boost the team to the NCAA tournament in 2008. "It was encouraging to see the university really get behind us as we succeeded in my senior year. … People were proud of the AU basketball team. It was a unique experience – to walk around campus and have so many people recognize me. And it was great to raise the profile of American University to a national level," he adds.

After graduation, he moved overseas and played basketball professionally, with stints in England and Australia. Lay elaborates, "I never had the opportunity to study abroad, as many AU students do, so that was a great experience for me to live abroad and play ball before settling down in my real career [in finance]."

Currently, Lay works for SC&H Group, where he helps businesses implement financial software tools. He is pursuing his certification in public accounting and credits AU and his externships as a student with Beers & Cutler and Deloitte for preparing him for the world of finance. He also was very close with the late Kogod Professor Sue Marcum.

In his spare time, Lay is a member of the Alumni Board where he represents the young alumni point of view. He also mentors inner-city young adults through Year Up, a charity that helps minority adults, aged 18 to 24, transition from high school to either higher education or a professional career. Lay says that while growing up, he often played sports with teammates from similar backgrounds as the young adults he mentors, so he can relate to them. He even shot hoops with one of his mentees: "I was in my business clothes at the time, but I told [the other players], 'Just so you know, I'm not awful at basketball.'"

That's certainly an understatement, but is typical of Lay. He is modest about his accomplishments, crediting God and luck for his accomplishments and skills on the court and insisting that the Eagles' victorious 2008 season, culminating in the NCAA tournament, was a team effort – the product of four years of hard work and practice together. In fact, the moments spent with his teammates are his favorite memories of AU.