Alumni Success Story
Vishal Vaidya is Yet Another Alumnus Taking on Broadway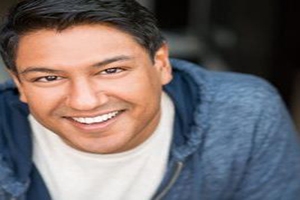 Some folks will see alumnus Vishal Vaidya's appearance in the upcoming Broadway adaptation of Groundhog Day and assume that his recent success was a quick process. However, it is the result of years of work – at American University during his undergraduate career, around DC, and in New York City, where he will make his debut on April 17. Vishal looks back fondly on his time at AU, recalling the opportunities he had to showcase a talent he developed growing up in an active theatre scene in Montgomery County.
Vishal says, "My teacher was an American University alum[na], and she suggested I apply for the program at American. When I got there, I got involved in on-campus productions at the Katzen [Arts Center], plays like The Hundred Dresses and Black Box. However, I was also getting experience in the larger theatre community in DC. I wanted to build relationships so that after I graduated, I could start working right away. That's one of the great things about going to AU – you have the opportunity to cultivate your career while you're still in school."
After graduation, Vishal worked at theaters around DC, receiving his actor's equity card, which allowed him to begin performing under the professional union of the Actos' Equity Association. After this accomplishment, Vishal periodically began going to New York City for auditions. He received his offer for Groundhog Day in 2016 and looks forward to his debut on the Great White Way this spring.
Vishal looks back at his journey with both admiration and advice for those seeking a career in theatre. "It's a tough path – lots of rejection, and not every show is everyone's cup of tea," he says. "Keep working on things, and work on your creative process. Love what you do A LOT. I kind of compare it to having a teenage child – it takes a lot of love and patience."
Vishal describes his show as "crazy and fun." He looks forward to seeing familiar faces at his performance, as AU alumni are known to support one another on Broadway.