On Campus
Forget Animal House: Greek Life at AU Focuses on Academics, Service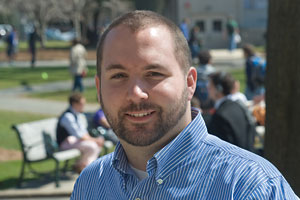 AU undergrads are going Greek in growing numbers.
The university's 29 fraternities and sororities boast 1,288 members, nearly 20 percent of the undergraduate population. It's a high number when compared with AU's peer institutions and underscores the vibrancy of student life on campus, says Greek life coordinator Curtis Burrill.

"Our students are resident assistants, student club leaders, volunteers. Being a part of a fraternity or sorority is a profound experience, a lifelong commitment, but it's only one part of what our students do," he says.
As Greek life advisor, Burrill is the liaison between local sorority and fraternity chapters and their national organizations. Advisor to three student-led governing councils, he also meets monthly with chapter presidents and advisors, most of whom are alumni of the organizations. His work with the Student Health Center, Housing and Dining, and other campus offices has led to  educational programming about hazing, alcohol use, and time management. 
"We are a values-based fraternal movement, so my job is to ensure students are held accountable when they make a mistake and—as is more often the case—make sure they're rewarded for the great things they do in the community," he says.
In addition to leadership and service, academics are a core Greek value—and AU's brothers and sisters rise to that challenge. Members boast a 3.35 cumulative GPA (higher than the undergraduate cumulative GPA of 3.21).  And the cumulative GPA for new members is even higher: 3.4.
"Those figures are a testament to our students' drive and abilities," says Burrill. 
He understands juggling the demands of classes and Greek life well. As an undergrad at the University of Maine, he pledged Beta Theta Pi, served as president of the Interfraternity Council, and coordinated Greek Week and other activities. The experience both shaped his undergrad experience—"I made friends for life," he says—and led to his career.
With a bachelor's in landscape horticulture from Maine and a master's of education in student personnel administration from Springfield College, Burrill worked in Greek life at the University of New England and Tufts University. He joined AU in 2009.

"I love working with students. They don't [always] realize it, but they're joining an organization for life," says Burrill. "Knowing what's in store for them is exciting, because that camaraderie and brotherhood lasts a lifetime."