Government & Politics
Obama Speaks on Immigration at AU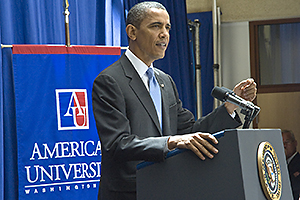 Labeling America's immigration system "broken," President Barack Obama called for comprehensive reform during a landmark speech July 1 at American University's School of International Service.
As sunlight streamed through the walls of windows in the gleaming new SIS building, Obama praised America's long and proud tradition of welcoming immigrants while challenging the country to "shape a system that reflects our values as a nation of laws and a nation of immigrants."
"Being an American is not a matter of blood or birth," Obama told the crowd of 250 in the SIS atrium. "It's a matter of faith, of shared fidelity to the ideas and values that we hold so dear. That's what makes us unique. That's what makes us strong. Anybody can help us write the next great chapter in our history."
New York mayor Michael Bloomberg and activist Al Sharpton were among the politicians, government officials, and AU administrators, professors, staff, and students who witnessed the speech in person. Just across the quad in the Ward building, hundreds more from the AU community gathered, joining millions across the world who watched on TV.
In choosing AU to deliver his address, Obama returned to the site of his momentous endorsement by the late Senator Edward Kennedy, who told cheering throngs at Bender Arena in January 2008 that he believed Obama was the best choice for the White House.
AU president Neil Kerwin called Obama's latest visit "historic" for the university and "timely" for the nation.
"Immigration is a matter of profound significance for our country, given our history as a nation of immigrants, our values, and our current challenges. It has great implications for our future," said Kerwin, who also spoke before the president's speech. He was followed by Bishop John Schol, an AU trustee, who delivered the invocation; Student Government president Nate Bronstein '12, who led the pledge of allegiance; and Vishal Vaidya, CAS/SIS/BA '09, who performed a stirring rendition of the national anthem.
"He delivered his remarks in the new home of the School of International Service, thereby giving our university an unforgettable inaugural event for this remarkable facility," Kerwin said. "It is a day that we will memorialize in a variety of ways."
Obama struck broad themes throughout the roughly 40-minute speech. In reinvigorating debate over the polarizing issue of immigration, he called for an end to "political posturing and special interest wrangling," and said neither absolute amnesty for nor mass deportations of the country's illegal immigrants is feasible.
"Ultimately, our nation, like all nations, has the right and obligation to control its borders and set laws for residency and citizenship," he said. "And no matter how decent they are, no matter their reasons, the 11 million who broke these laws should be held accountable. Now, if the majority of Americans are skeptical of a blanket amnesty, they are also skeptical that it is possible to round up and deport 11 million people.
"Once we get past the two poles of this debate, it becomes possible to shape a practical, common-sense approach that reflects our heritage and our values. Such an approach demands accountability from everybody — from government, from businesses, and from individuals."
Those words, said AU professor Alan Lichtman, a presidential historian, "had to be spoken."
"The president was absolutely right," he said. "This is a problem that everybody recognizes but somehow our government can't deal with because of politics. I thought the speech was an excellent mix of telling us what needed to be done and then trying to inspire us to do the job. But in an election year it's going to be tough."
While conceding that immigration is an "emotional" issue, Obama nonetheless said he thinks both parties can put politics aside and fix a "broken and dangerous system."
"I believe we can appeal not to people's fears but to their hopes, to their highest ideals, because that's who we are as Americans."
Around noon Obama concluded his speech, left to a standing ovation and entered his waiting limo, which sped off onto Nebraska Avenue.
More than four hours earlier, Washington College of Law student Ron Frey stood along the same street, the first in line to witness history. Minutes later he was joined by rising senior Josh Levitt.
"The fact that he's chosen AU for two such important events in three years says we have a school that's very well respected," Levitt said. "It's a great day to be an Eagle."