Achievements
AU's Students Are the Most Politically Active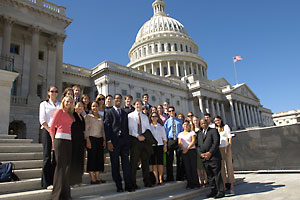 American University is the nation's capital for politically active students.
The Princeton Review has named AU No. 1 in its Most Politically Active Students category. The rankings, released this week, are based on a survey of 122,000 students at 373 schools throughout the country.
"I'm not surprised," said student government president Nate Bronstein. "I was ecstatic. It says a lot about the culture of our students. We're the shakers and the movers. Having that ranking very much legitimizes us when we're talking with other students at other universities. What I like is that politically active ranking is one of the most prestigious ones the Princeton review does."
AU's 2010 ranking marks the third time in the last five years it's topped the category.
"If you have a passion for politics, there's no better city that Washington, and no better university than AU," said William LeoGrande, dean of the School of Public Affairs. "Many of our faculty have worked in government and continue to be actively involved in the great public policy issues of the day. They open doors for our students all over the city—on Capitol Hill, in the executive branch, in the nonprofit advocacy community, and beyond."
Nearly 10 percent of AU's student clubs are politically oriented, and students in all of the university's schools and colleges find their way into the political realm. This spring, 13 AU students interned in a congressman's office, 15 in a senator's, and two at the White House.
"It is a recognition which reinforces what we have known for a long time about the students at AU," said Greg Grauman, director of AU's Office of Admissions. "American University students are hard-working, intellectually curious individuals who are passionate about creating meaningful change in the world. I am pleased more prospective students will become of aware of our campus identity as a result of this ranking."
The ranking is not news to government agencies, which recruit heavily on AU's campus. There were 42 federal, state, and local government employers in attendance at the fall 2009 Job and Internship Fair or spring 2010 event. That's according to the AU Career Center, which ranked as the 15th best in the nation in the Princeton Review survey.