Business
Teens in the Crosshairs: Is Targeted Marketing Ethical?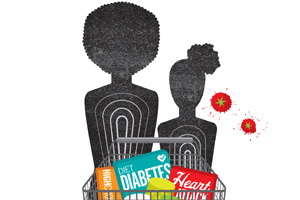 From their waistlines to their wallets, American teens are fatter than ever.

Teens—one-third of whom are overweight or obese—boast $200 billion in discretionary income, a chunk of which is spent on fast food and empty calories. And they've got an appetite for technology, too: on average, teens spend eight hours a day surfing the 'Net, talking or texting on the phone, and watching TV. (Among black and Hispanic teens, the average is 12 hours per day.)

Teens' buying power and social media savvy haven't gone unnoticed by U.S. food and beverage companies. In 2006, firms from McDonald's to Monster Energy spent $1.6 billion hawking products high in fat, sodium, and sugar to children, often via Facebook, YouTube, and Skype.

America's youngest consumers are in advertisers' crosshairs—but is targeted marketing to teens in the digital age ethical?

That question sparked a feisty and fiery debate, September 13, at an event marking the launch of the second issue of Kogod Now, AU's business research magazine. Moderated by marketing professor Sonya Grier, whose work on the impact of targeted marketing on minority teens is highlighted in the cover story, the panel discussion featured: Jeff Chester, executive director, Center for Digital Democracy; Keith Fentonmiller, senior attorney, Federal Trade Commission; and Dan Jaffe, executive vice president, Association of National Advertisers.

The discussion centered on whether teenagers have the cognitive maturity to decipher marketing messages aimed at them—and whether the ways in which those messages are delivered are underhanded.

Jaffe, whose organization includes 400 companies with 10,000 brands, advocated a "granular" marketing approach, whereby children are exposed to more sophisticated advertising as they get older.

If an 18-year-old is able to vote, drive, marry, then "how can we say that a 17-year-old can't handle an ad for a cereal or a hamburger?" asked Jaffe. "Teenage years are volatile, but that doesn't mean teenagers are incapable of making rational decisions."

Fentonmiller contended that while the marketing techniques—including behavioral profiling, or tailoring messages to a person's buying habits and demographic information—"aren't inherently problematic, it really depends on what you're promoting."

For example, a candy company recently had a "virtual beach party" online that drew 325,000 kids, while an energy drink company crafted a Web site about extreme sports aimed at teens. Would those methods be questionable if the product being pushed was milk?

"It's clear that food marketers see social media and virtual worlds as an avenue to reach children at a deep level and make them [brand] ambassadors," he said. 
"Companies think they can influence teens—whether they're taking advantage of a vulnerability, I don't know."

Chester, on the other hand, is unequivocal in his view that kids are vulnerable to advertisers' tactics and tricks.

"There's an epidemic of digital ads aimed at teens. . . what we'd like food marketers to do is market foods that are healthy," he said. "Doritos, McDonald's, Coca-Cola are all marketed at teens, teens, teens."

He's also critical of behavioral profiling, which violates children's privacy. "The moment you turn 13 in this country, all your personal information can be collected online," he explained. "We need regulation, and we need the marketers to step in.

"The problem is that the industry doesn't want to protect teens' privacy because there's so much money [to be made.]"

To read more about targeted marketing, check out the fall 2011 issue of Kogod Now.