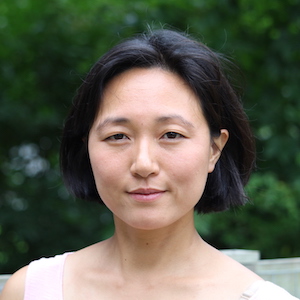 Ann Kang

Program Director for Music Department of Performing Arts
Degrees

Doctor of Musical Arts, Piano, Peabody Conservatory

Master of Music, Piano, Music Theory Pedagogy, Peabody Conservatory

Bachelor of Arts, English Literature, University of California at Berkeley

Languages Spoken

English, Korean, French, German

Bio

Dr. Ann T. Kang is Director of the Music Program. She teaches piano, chamber music, music theory and musicianship. She has been called a pianist of "admirable polish and sensitivity" by the Baltimore Sun. Performance highlights include the Phillips Collection in Washington, D.C; Sunset Center in Carmel, California; The Stella Adler School in New York City; The Foundation des Etats-Unis in Paris, France; The St. Nicholas Cathedral in Kiev, Ukraine and the Eglise de Corporaux in Fribourg,Switzerland. She received her Doctorate and Master's Degrees in piano (along with a second Master's in music theory pedagogy) from the Peabody Conservatory of Music in Baltimore, Maryland. Her primary teachers were Julian Martin and Boris Slutsky at Peabody.  She worked closely with Sharon Mann during her undergraduate years.  Other important influences include Leon Fleisher (Peabody) and Herbert Stessin (Aspen). She has participated in the Aspen Music Festival, Gijon International Piano Festival (Spain) and the Banff Piano Festival (Canada). She has taught at the Peabody Conservatory and the Johns Hopkins University in Baltimore. Dr. Kang attended the University of California at Berkeley, attaining her bachelor's degree in English literature.

In 2008, she was diagnosed with focal dystonia in her right hand, which halted her performing career. Since then, she has focused on teaching and occasionally performing chamber works.
Spring 2023
MUS-021 Private Instrument Study: Piano

MUS-022 Private Instrument Study: Piano

MUS-121 Private Instrument/Vocal Study: Piano

MUS-122 Private Instrument/Vocal Study: Piano

MUS-334 Private Instrument/Vocal Study: Junior Recital, Piano

MUS-434 Private Instrument/Vocal Study: Senior Recital, Piano

PERF-045 Chamber Ensembles
Fall 2023
MUS-021 Private Instrument Study: Piano

MUS-022 Private Instrument Study: Piano

MUS-121 Private Instrument/Vocal Study: Piano

MUS-122 Private Instrument/Vocal Study: Piano

MUS-334 Private Instrument/Vocal Study: Junior Recital, Piano

PERF-045 Chamber Ensembles

PERF-126 Musicianship I
Partnerships & Affiliations
Scholarly, Creative & Professional Activities
Honors, Awards, and Fellowships
Presser Award, Presser Foundation
Second Prize, Yale Gordon Piano Competition
Exhibitions/Performances
Featured soloist of the International Conductors' Festival, Kiev, Ukraine (www.internationalconductorsfestival.org)
Six concerts as pianist and director of the Conservatory Avant-Garde Ensemble (CAGE) at the Peabody Conservatory
Performances at the Phillips Collection, Washington, DC, and Stella Adler School, NY, with saxophonist Noah Getz
Professional Presentations
Pre-concert lecturer and guest speaker at Conversations in Music,  Canton Symphony Orchestra, Canton, OH