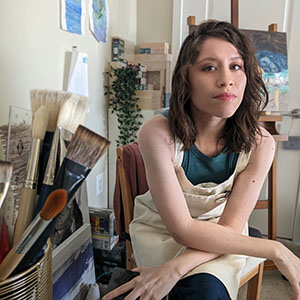 Allyssa Yamaguchi

Adjunct Professorial Lect Department of Art
Degrees

MFA, American University
Graduate Certification in Arts Management, American University
BFA, Texas A&M University-Corpus Christi

Favorite Spot on Campus

A place with a window and a sofa at The Katzen Art Center

Bio

Allyssa Ray Yamaguchi-Juarez (she/her) originates from The Rio Grande Valley of South Texas. Allyssa currently lives in Maryland, and has completed her Masters of Fine Arts as well as her Graduate Certification in Arts Management at American University in Washington, DC in May 2021.

Allyssa Yamaguchi-Juarez is an exhibiting artist who has participated in an Artist Residency at the Chautauqua School of the Fine and Performing Arts in 2018. She has exhibited works in numerous juried and group exhibitions including Chesapeake Arts Center's Hal Gomer Gallery, "Her Ideas, Her Stories: Women Artists Exhibit" in 2022, the Target Gallery at Torpedo Factory Art Center: Juried Exhibit "Those Spaces Between Us" in 2021. "Chautauqua School of Art Annual Student Exhibition" at Fowler and Kellogg Art Center, Chautauqua, New York, and "Viva La Femme! Exhibition of Women Artists" at L'Atelier Berkshires Art Gallery, Barrington, Massachusetts.
Fall 2022
ARTS-210 Artist's Perspective: Painting