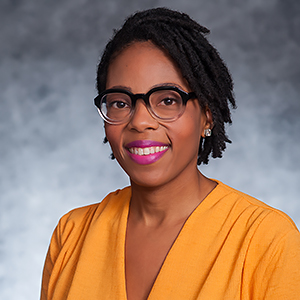 Celeste Davis

Professorial Lecturer Health Studies
Degrees

BS, Psychology, Bennett College for Women
MPH, Health Management and Policy, University of Michigan School of Public Health
JD, Boston University School of Law

Bio

Celeste Davis is a health equity advocate and educator driven by a passion and unique skill set to center the voice of systemically oppressed communities through her academic and policy work. Her broad perspective of the most urgent offenses to health equity and justice, along with her training in social science, public policy, and law, gives her opportunities to help propel movements for change.

At American University, Celeste teaches classes on health policy, food justice, and multicultural health. In her policy work, she has lead from building and managing coalitions through issue area advocacy and organizing. Her public health experience and policy work includes positions with the ACLU of Michigan, the Center for Health Law and Policy Innovation of Harvard Law School, Community Catalyst, and the Baltimore City Health Department.

Celeste also is a steering committee member for Public Health Awakened of Human Impact Partners.

She attended law school at Boston University and has a Masters of Public Health in Health Policy and Management from the University of Michigan. She is a graduate of Bennett College for Women, an HBCU located in Greensboro, NC.
Spring 2020
HLTH-240 Intro to Health Promotion

HLTH-245 Multicultural Health

HLTH-294 Comm Service Learning Project: Intro to Health Promotion

HLTH-370 Local to Global: Hlth Pol/Syst
Fall 2020
CORE-106 Complex Problems Seminar: Food Justice Matters

HLTH-245 Multicultural Health

HLTH-245 Multicultural Health