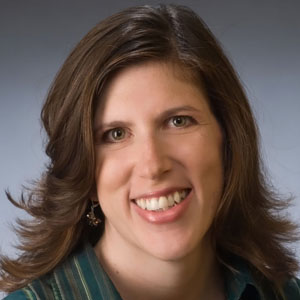 Katie DeCicco-Skinner

Associate Professor and Department Chair, Biology Department of Biology
Degrees

Postdoc, National Cancer Institute, NIH PhD, Nutritional Sciences, Pennsylvania State University BS, Biochemistry, Virginia Polytechnic Institute & State University

Bio

Broadly speaking our laboratory studies molecular changes that contribute to cancer development as well as the role of the tumor microenvironment in the initiation and progression of cancer. We have two active areas of research in our laboratory. (1) The first area of research investigates one specific signaling pathway defect and how it predisposes to squamous cell carcinoma, a form of skin cancer. The tumor progression locus 2 (Tpl2) gene is involved in a variety of cellular functions including inflammatory processes and immune function. We have recently identified a novel tumor suppressor role of Tpl2 in chemically-induced skin cancer. Tpl2-/-mice have higher incidences of cutaneous papillomas than wildtype mice and these papillomas convert to cutaneous squamous cell carcinoma more readily than in wildtype mice. Currently, we are working to understand the stromal-epithelial interactions that drive skin cancer development and progression in Tpl2-/- mice. (2) Multiple myeloma is the second most common blood cancer in the United States. Epidemiological studies have identified obesity as a risk factor for multiple myeloma. Obesity increases both the risk of developing multiple myeloma and decreases overall patient survival. However, the molecular underpinnings by which adipocytes (fat cells) contribute to multiple myeloma growth and progression is relatively unknown. Our laboratory is working to understand the hormonal, lipid, and signaling factor dysregulation in obese adipocytes that contribute to MM growth and progression.
Scholarly, Creative & Professional Activities
Grants and Sponsored Research
SPONSORED RESEARCH
A.      GRANTS AND CONTRACTS RECEIVED AT AMERICAN UNIVERSITY
Faculty Research Support Grant,   2016-7
Faculty Research Support Grant,  2015-6
American University Mellon Grant, 2013                                                                                                   
American University Mellon Grant, 2012                                                                                                      
American University Faculty Research Award, 2011                                                                                 
American University Mellon Grant, 2008                                                                                                         
B.      EXTERNAL PROPOSALS FUNDED- ONGOING
NIH R15 grant  (2R15CA152907-02)
2015-2018

Title = The role of Tpl2 in carcinogenesis-related inflammation
NASA grant (13-14RadStep2-0012)
2015-2017
Title = 

Neurobehavioral and CNS-Related Physiological Changes

 

  

DeCicco-Skinner = collaborator.  PI = Catherine Davis, Johns Hopkins University
C.      EXTERNAL PROPOSALS FUNDED- COMPLETED
 NIH R15 grant  (1UA5CA152907-01A1)
2011-2014
Title = The role of Tpl2 in carcinogenesis-related inflammation
NIH R21 grant (1R21NS080585-01)
2012-2014
Title = 

Neural estrogen synthesis by astrocytic aromatization, and neuroinflammation

Role = Collaborator (Saldanha = PI)
NSBRI grant (11-11_NSBRI_2-0035
2012-2015
Title = 

Detection & Prevention of Neurobehavioral Vulnerability to Space Radiation

DeCicco-Skinner = collaborator.  PI = Bob Hienz, Johns Hopkins
DC NASA Stem Grant
2012
Title = 

Radiation-induced brain changes:  An immersive interdisciplinary undergraduate research experience 
Media Appearances
"Genetic Tests Coming To A Drugstore Near You",  WAMA 88.5, 2010
Selected Publications
Bullwinkle, EM, Parker, MD, Bonan, NF, Falkenberg, LG, Davison, SP, DeCicco-Skinner, KL. (2016) Adipocytes contribute to the growth and progression of multiple myeloma: Unraveling obesity related differences in adipocyte signaling. Cancer Letters. 380(1), 114-121.

Davis, CM, DeCicco-Skinner, KL, Hienz, RD. (2015) Deficits in Sustained Attention and Changes in Dopaminergic Protein Levels Following Exposure to Proton Radiation are related to Basal Dopaminergic Function. PLoS One.  10(12):e0144556.

Wetzell, BB†, Muller, MM†, Flax, SM, King, HE, DeCicco-Skinner, KL, Riley, AL. (2015) Effect of Preexposure on Methylphenidate-Induced Taste Avoidance and Related BDNF/TrkB Activity in the Rat. Psychopharmacology.  232, 2837-2847. 

Davis CM, DeCicco-Skinner KL, Roma PG, and Hienz RD. (2014) Changes in Neurobehavioral Performance and Dopaminergic Function Associated with Exposure to Space Radiation. Radiation Research.  181, 258–271. 

Wetzell, BB†, Muller, MM†, Cobuzzi, JL†, Hurwitz, ZE†, DeCicco-Skinner, KL, Riley, AL. (2014). Effect of age on methylphenidate-induced conditioned taste avoidance and related BDNF/TrkB signaling in the insular cortex of the rat. Psychopharmacology. 231(8):1493-501.  

DeCicco-Skinner KL, Henry GH†, Cataisson C, Tabib T†, Gwilliam JC†, Watson N†, Bullwinkle, EM†, Falkenberg, L†, O'Neill R†, Moran, A, Wiest JS. (2014) Endothelial cell tube formation assay for the study of in vitro angiogenesis. J. Vis. Exp. (91), e51312.

 DeCicco-Skinner KL, Jung SA†, Tabib T†, Gwilliam JC†, Alexander H†, Goodheart SE†, Merchant AS, Shan M, Garber C, Wiest JS. (2013) Tpl2 knockout keratinocytes have increased biomarkers for invasion and metastasis. Carcinogenesis. 34(12):2789-98.  

DeCicco-Skinner KL, Nolan SJ†, Deshpande MM, Trovato EL†, Dempsey TA†, Wiest JS. (2013) Altered Prostanoid Signaling Contributes to Increased Skin Tumorigenesis in Tpl2 Knockout Mice. PLoS ONE 8(2):e56212.  

Kohut SJ, DeCicco-Skinner KL, Johari S†, Hurwitz ZE†, Baumann MH, Riley AL.  (2011) Differential modulation of cocaine's discriminative cue by repeated and variable stress exposure: Relation to monoamine transporter levels. Neuropharmacology. 2012 Aug;63(2):330-7. 

 DeCicco-Skinner KL, Trovato EL†, Simmons JK†, Lepage PK, Wiest J. (2011) Loss of Tumor Progression Locus 2 (TPL2) enhances tumorigenesis and inflammation in two-stage skin carcinoigenesis.  Oncogene 30(4):389-97. 

 Jacobs S, Lie DC, DeCicco KL, Shi Y, De Luca LM, Gage FH, Evans RM. (2006) Retinoic acid is required early during adult neurogenesis in the dentate gyrus. Proc. Natl. Acad. Sci. 103: 3902-7.  

DeCicco KL, Tanaka T, Andreola F, De Luca LM (2004) The effect of thalidomide on non-small cell lung cancer (NSCLC) cell lines: Possible mediation through PPAR-g.  Carcinogenesis.25:1805-12. 

DeCicco KL,  Youngdahl JD, Ross AC (2001) All-trans-retinoic acid and polyriboinosinic:polyribocytidylic acid in combination potentiate specific antibody production and cell-mediated immunity in Lewis rats. Immunology. 104(3): 341-8.  

DeCicco KL and AC Ross (2000) All-trans-retinoic acid and polyriboinosinic: polyribocytidylic acid cooperate to elevate anti-tetanus immunoglobulin G and immunoglobulin M responses in vitamin A-deficient Lewis rats and Balb/c mice. Proc. Nutr. Society 59: 1-11.  

DeCicco KL, Zolfaghari R, Li N-Q, Ross AC (2000) Retinoic acid and Polyriboinosinic: Polyribocytidylic acid act synergistically to enhance the antibody response to tetanus toxoid during vitamin A deficiency: Possible involvement of Interleukin-2 receptor b, Signal Transducer and Activator of Transcription-1, and Interferon Regulatory Factor-1. J. Infectious Disease. 182 Suppl 1: S29-S36. 

Dawson HD, Li N-Q, DeCicco KL, Nibert JA, and Ross AC. (1999) Chronic marginal vitamin A status reduces natural killer cell function in aging Lewis rats. J. Nutrition. 129: 1510 
 †  denotes AU student