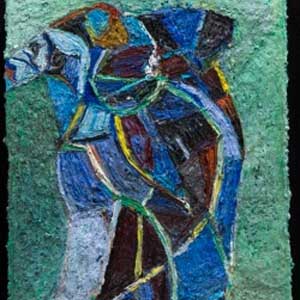 Deborah Kahn
Associate Professor Emerita
Department of Art
Deborah Kahn graduated with an MFA in painting from Yale University in 1978. She has exhibited in New York at the Bowery Gallery and The Painting Center. For the past two years she has been included in group exhibitions at the Toyota Municipal Museum in Nagoya, Japan. Her work has been included in exhibitions in Philadelphia and Washington, D.C. She is represented by Les Yeux du Monde Gallery in Charlottesville, VA, and in September 2009 she will exhibit at Gross McCleaf Gallery in Philadelphia. In 2004 she was a recipient of the John Simon Guggenheim Memorial Foundation Grant. She has been teaching at American University since 1989. She has also taught at Dartmouth College, The New York Studio School, Yale University, Queens College, and Indiana University Bloomington.

Degrees

MFA Painting, Yale University
BFA Painting, Kansas City Art Institute
Loading ...

CONTACT INFO

(202) 885-1670 (Office)
(202) 885-1132 (Fax)
FOR THE MEDIA

To request an interview for a
news story, call AU Communications
at 202-885-5950 or submit a request.
---
Scholarly, Creative & Professional Activities
Selected Publications
   
Lynne Munson. Exhibitionism Art in an Era of Intolerance. (Chicago, Ivan R.Dee, 2000)
   
Warren Craghead, Drawer, Charlottesville. Sept 17, 2007.http://www.wcraghead.com/weblog/2007/09/charlottesville-sept-shows.html
   
Lauren Henkin, Insight, May 2005.
   
Ruth Latter, Daily Progress, January 2001.
   
Patricia Rosoff, Art New England, June 2000.
   
Patricia Rosoff, The Hartford Advocate, October 1999.
   
Victoria Conohue, Philadelphia Enquirer, 1997.
   
Lee Fleming, The Washington Post, 1991.
   
Michael Welzenback, The Washington Post, 1991.
   
Amy Slaton, Art in America, 1988.
Grants and Sponsored Research
2005, 2002 Mellon Foundation Grant.
Honors, Awards, and Fellowships
2004 John Simon Guggenheim Memorial Foundation Grant
Professional Presentations
2008 Chautauqua School of Art, Chautauqua, NY. Faculty.
1991-2006 Dartmouth College, Hanover, NH. Visiting Associate Professor of Studio Art, Summer Terms. 
2007 University of Tulsa, Tulsa, OK. Visiting artist.
2007 Rhode Island School of Design. Visiting instructor.
2007 New York Studio School, New York, NY. Visiting lecturer, 2006 Drawing Marathon Instructor.
2004 University of Washington, Seattle, WA. Visiting Artist. 
2001 Vermont Studio Center, Johnson, VT. Produced print for publication and collection, 1995, Visiting Artist.
2001 Massachusetts College of Art, Boston, MA. Visiting artist.
1999 Brandeis University, Waltham, MA. Visiting artist. 
1990 National Women's Museum, Washington, D.C. Visiting lecturer, "Careers and Education."