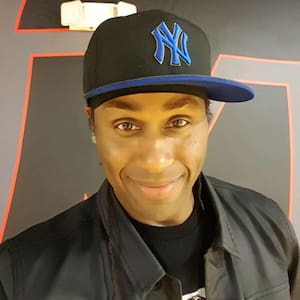 Esperonto Bean

Adjunct Instructor Department of Performing Arts
Bio

Esperonto is recognized as one of the pioneer House Dancers from Baltimore, and is well-versed in many dance styles, including House, Hip-Hop, Locking, and Punking/Waacking. He is the founder and director of Bmore Houseful, which is a dance company dedicated to House dance culture.

Esperonto was mentored by the legendary Fluky Luke and the late Fred "ReRun" Berry of the famed group "The Lockers". He became a member of GroovMekanex in the late 90's, which is the first Locking crew in the DMV area. Esperonto has danced with GroovMekanex as special guest performers for the internationally recognized Hip-Hop dance company Rennie Harris Pure Movement.

Esperonto's credibility in the dance scene also led him to open for acclaimed House and Hip-Hop artists such as Barbara Tucker, CeCe Penniston, Robin S., Mass Order, Funk Master Flex, KRS1, Loon, K-Solo, Mix Master Mike and Dirty Vegas.
Spring 2023
DNCE-217 Urban Dance Styles II
Fall 2023
DNCE-117 Urban Dance Styles I