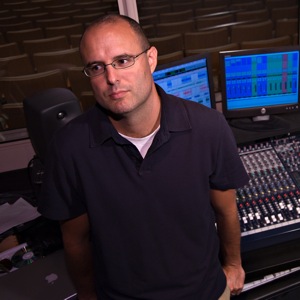 Fernando Benadon

Professor Department of Performing Arts
Degrees

PhD, Music Composition, UC Berkeley

BM, Arranging, Berklee College of Music

Bio

I am a composer/theorist originally from Buenos Aires. I have released two albums, written a score for an indie feature film shown at Cannes, and been praised by The New York Times for my music's "ear-grabbing invention." As a scholar, I am mainly interested in rhythmic analysis and improvisation, especially in jazz and Afro-Cuban music. Musical life at AU is a blast. It's collaborative and forward-thinking. Students and professors jam together and support each other's projects. Bluegrass, hip-hop, Romanticism, jazz-rock, film music, the avant-garde — all and more find a home here.
Spring 2023
MUS-021 Private Instrument Study: Composition

MUS-022 Private Instrument Study: Composition

MUS-121 Private Instrument/Vocal Study: Composition

MUS-122 Private Instrument/Vocal Study: Composition

PERF-110 Understanding Music

PERF-127 Musicianship II
Summer 2023
PERF-110 Understanding Music
Fall 2023
MUS-021 Private Instrument Study: Composition

MUS-022 Private Instrument Study: Composition

MUS-121 Private Instrument/Vocal Study: Composition

MUS-122 Private Instrument/Vocal Study: Composition

PERF-124 Music Theory I

PERF-224 Music Theory III
Scholarly, Creative & Professional Activities
Grants and Sponsored Research
   
National Endowment for the Humanities, Digital Startup Grant (2010)
Honors, Awards, and Fellowships
Steve Larson Award for Jazz Scholarship, Society for Music Theory (2020)   
John Simon Guggenheim Memorial Foundation Fellowship (2009)
Mannes Institute for Advanced Studies in Music Theory (2008, 2009)
Jaap Kunst Prize, Society for Ethnomusicology (2007)
Individual Artist Award, Maryland State Arts Council (2007)
League of Composers / ISCM composers competition (2005)
Aaron Copland Award, Copland House (2004)
Nicola DeLorenzo 1st Prize, UC-Berkeley (2004)
George Ladd Prix de Paris, UC-Berkeley (2001 - 03)
Fromm Commission, Tanglewood Music Center (2001)
 
Professional Presentations
On the Fluidity of Afro-Cuban Meter, Society for Music Theory (2019)
Polymetric Phrasing in Rumba's Quinto. Society for Music Theory (2016)
Improvisations of a Quinto Player. Analytical Approaches to World Music (2016); with Andrew McGraw
Deep Syncopation in Hindustani Tabla Drumming. Analytical Approaches to World Music (2014)
Disentangling the Rubato-Groove Continuum. Society for Music Theory (2012)
Dynamic Exploration of Recording Sessions Between Jazz Musicians Over Time. ASE/IEEE International Conference on Social Computing (2012); with Darya Filippova, Karl Kingsford, and Michael Fitzgerald
Metrical Properties of Fusion Drum Solos. Society for Music Theory (2011)
Crossmodal Analogues of Tempo Rubato. Society for Music Perception and Cognition (2011)
Expressive Timing via Metric Hybrids. International Conference on Music Perception and Cognition (2010)
Speech Rhythms and Metric Frames. Society for Mathematics and Computation in Music (2009)
Bend it Like Bubber: Miley's Time in Creole Love Call. Society for Music Theory (2007)
Towards a Theory of Tempo Modulation. International Conference on Music Perception and Cognition (2004)
Absolutes and Relatives in Jazz Microtiming (poster). Auditory Perception, Cognition, and Action Meeting (2004)
Spectrographic and Calligraphic Cues in the Identification of Jazz Saxophonists. European Society for the Cognitive Sciences (2003)
Residencies
   
The MacDowell Colony (2006)
Copland House (2004)
Voix Nouvelles, Fondation Royaumont (2002)
Wellesley Composers Conference (2002)
Tanglewood Music Center (2000)
Aspen Advanced Master Class in Composition (1999)