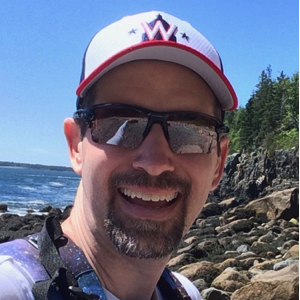 Aaron Grocholski

Professorial Lecturer Department of Physics
Degrees

PhD Astronomy, U. of Florida
MS Astronomy, U. of Florida
BS Physics, Georgia Southern U.

Bio

Aaron Grocholski is a Professorial Lecturer at American University focusing on teaching Introductory Astronomy, Astrophysics, and a complex problems class he developed called "Asteroid Apocalypse" which addresses the issues surrounding the possibility of a future asteroid impact with Earth.  He earned his PhD in observational astronomy with his research focused on what we can learn about the local Universe by studying stellar populations in relatively nearby galaxies.  He is also interested in near Earth asteroids and the various facets of planetary defense that must work together to mitigate the effects of a potential impact with Earth.  Aaron joined the Department of Physics in August 2017.
Spring 2022
PHYS-160 Astronomy with Laboratory

PHYS-160 Astronomy with Laboratory

PHYS-160 Astronomy with Laboratory

PHYS-160 Astronomy with Laboratory

PHYS-360 Astrophysics
Summer 2022
PHYS-160 Astronomy with Laboratory

PHYS-160 Astronomy with Laboratory
Fall 2022
CORE-105 Complex Problems Seminar: Asteroid Apocalypse

PHYS-160 Astronomy with Laboratory

PHYS-160 Astronomy with Laboratory

PHYS-160 Astronomy with Laboratory

PHYS-160 Astronomy with Laboratory