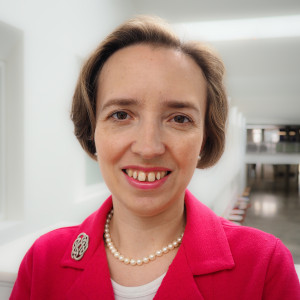 Joanne Allen

Hurst Sr Prof Lecturer Department of Art
Degrees

PhD, University of Warwick, 2010

MA, Courtauld Institute of Art, 2005

BA, University of Warwick, 2003

Bio

My research investigates the function, accessibility, and control of constantly evolving sacred spaces in medieval and early modern Italy. My book, Transforming the Church Interior in Renaissance Florence (Cambridge University Press, 2022) proves the almost ubiquitous presence of architectural rood screens in Italian churches, and clarifies the religious and aesthetic motivations behind their widespread elimination in the charged Counter-Reformation period. My previous articles have investigated issues of sacred space in the church architecture of Venice, Padua, Vicenza, and Rome.


I teach survey classes on Medieval and Renaissance art history and offer specialized courses on Gothic Architecture and Renaissance Venice. I was awarded the Greenberg Scholarship of Teaching and Learning Award for the experiential teaching in my course Washington DC Architecture. My Complex Problems course Depicting the Divine focuses on controversial issues of art and faith of the three Abrahamic faiths: Judaism, Christianity, and Islam.
Spring 2023
ARTH-105 Artists/Audiences & Afterlives

ARTH-794 Master's Digital Projects Sem
Summer 2023
ARTH-096 Selected Topics: Non-Recurring: Venice: Splendor to Decline

ARTH-105 Artists/Audiences & Afterlives
Fall 2023
ARTH-205 Renaissance Perspectives

ARTH-205 Renaissance Perspectives
Scholarly, Creative & Professional Activities
Academia page: https://american.academia.edu/JoanneAllen
Research Interests
Medieval and Renaissance Art and Architecture, Sacred Spaces, Church Furnishings, Architecture of Washington DC, Religious Art of Judaism, Christianity, and Islam
Honors, Awards, Fellowships
Renaissance Society of America Image Subvention Grant for Art Historians
Italian Art Society Research and Publication Grant
CAS Book Incubator Grant
CTRL Greenberg Scholarship of Teaching and Learning Award
Rubinstein Post-doctoral Fellowship, Society of Renaissance Studies
Rome Award, British School in Rome
Selected Publications
Books
Transforming the Church Interior in Renaissance Florence (Cambridge University Press, 2022)
Articles
'Religious Reform, Sacred Space, and Bad Behavior in late sixteenth-century Orsanmichele', in Space, Image and Reform, ed. Ian Verstegen and Art Di Furia, (DeGruyter Press, 2021), pp. 161-88
'The San Zaccaria choir stalls in context', in La chiesa e il monastero di San Zaccaria, Chiese di Venezia: nuove prospettive di ricerca, edited by Bernard Aikema, Massimo Mancini O.P., Paola Modesti (Marcianum Press, 2016), pp. 151-174
'Giovanni Bellini's Baptism of Christ in its visual and devotional context: Transforming sacred space in Santa Corona in Vicenza', Renaissance Studies, Vol. 27, Issue 5 (November 2013), pp. 681-704
'Innovation or afterthought? Dating the San Giobbe retrochoir', in Art, Architecture and Identity in Venice and its Territories 1450-1750, (Ashgate, 2013), pp. 171-81
'Nicholas V's Tribuna for Old St. Peter's in Rome as a Model for the New Apsidal Choir at Padua Cathedral', Journal of the Society of Architectural Historians, vol. 72, no. 2 (June 2013), pp. 166–189
'Carthusian choir stalls and the misericord in Italy', The Antiquaries Journal, vol. 92 (2012), pp. 307-330
'The Choir Stalls of Lincoln Cathedral, Chester Cathedral and St Mary's Church, Nantwich'', Journal of the British Archaeological Association, vol. 161 (2008), pp. 104–130
Student work
Renaissance Venice: Mapping Intercultural Artistic Connections