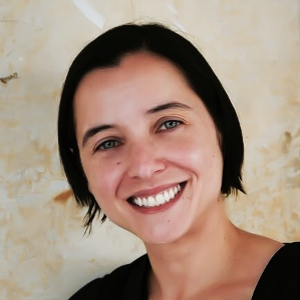 Juliana Martinez

Assistant Professor World Languages and Cultures
Degrees

PhD in Romance Languages and Literatures. University of California, Berkeley BA in Literature. Universidad de Los Andes, Bogotá, Colombia

Bio

Professor Martínez focuses on the intersection of violence and body politics in the Latin-American and US Latino context. Her two main areas of research are: representation of historical violence recent cultural production; and gender and sexuality—particularly transgender studies. She is currently working on a book manuscript tentatively titled "Spectral Realism, Representations of Violence in Colombia's Recent Cultural Production" Professor Martínez regularly teaches courses on Latin American literature, film and history; gender and sexuality; Latin American feminisms; narratives of violence (particularly in Colombia and Mexico); and women writers in Latin America. Within the AU community, Professor Martínez is also part of the advisory board of the Women's, Gender and Sexuality Studies program, and a member of the Center for Latin American and Latino Studies (CLALS) Part of her work can be found at https://american.academia.edu/JulianaMartinez Recent publications include: Books: Martínez, Juliana and Vidal-Ortiz, Salvador. Eds. "Travar el saber, experiencias trans/travestis de educación en Argentina" ("Transing Knowledge, Experiences of Trans Inclusion in Argentinean Education"). Universidad de la Plata, Argentina. September, 2018. Journal Articles: Vidal-Ortiz, Salvador, and Martínez, Juliana. 2018. "Latinx thoughts: Latinidad with an X." Latino Studies. October, Volume 16, Issue 3, pp 384–395. Martínez, Juliana. "Beyond the Ventriloquism of Diversity, How Mujer T is Transing Inclusion in Bogotá." Special Issue: Contested Terrains: Women of Color and Third World Women, Feminisms, and Geopolitics. Hypatia. A Journal of Feminist Philosophy. Vol. 32, Issue 3 (Summer 2017): 679-695. Martínez, Juliana. "Dressed Like a Man? Of Language, Bodies and Monsters in the Trial of Enrique/Enriqueta Favez and its Contemporary Accounts." Journal of the History of Sexuality. 26, 2 (May 2017): 188-206 Book Chapters: Martínez, Juliana. 2017. "'La mirada sin perspectiva de la niebla', fantología y desaparición en En el lejero." In Evelio Rosero y lo ciclos de la creación literaria. Edited by Felipe Gómez and María del Carmen Saldarriaga. Opera Eximia Collection, Pontificia Universidad Javeriana University Press, Bogotá, Colombia, 37-56. Martínez, Juliana. 2015. "Fog Instead of Land, Spectral Topographies of Disappearance in Colombia's Recent Literature and Film." In Espectros, Ghostly Hauntings in Contemporary Transhispanic Narratives. Edited by Alberto Ribas-Casayas and Amanda L. Petersen. 2016. Bucknell University Press: Lewisburg, 117-131.