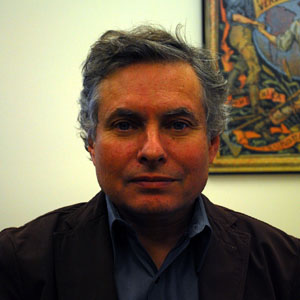 John Willoughby

Professor Department of Economics
Degrees

PhD, Economics, University of California at Berkeley<br>MA, Economics, Cambridge University<br>BA, History, University of Michighan

Bio

Professor Willoughby has recently returned from a two-year stay in Sharjah, United Arab Emirates where he helped create an undergraduate economics program at the new American University of Sharjah. He has also taught at the American University in Cairo as a visiting professor.
His teaching interests are: European Economic History, American Economic History, Political Economy, History of Economic Thought.

Spring 2022
ECON-100 Macroeconomics

ECON-351 Comparative Economic Systems
Fall 2022
ECON-317 Political Economy

ECON-320 History of Economic Ideas
Partnerships & Affiliations
Union for Radical Political Economics
Member

Review of Radical Political Economics Editorial Board
Member

Middle East Studies Association
Member
Scholarly, Creative & Professional Activities
Selected Publications
"Understanding the Emergence of Capitalist Authoritarian States: Looking Backward to See Forward", Review of Radical Politics 51 (4), 2019.
"Segmented Ferminization and the Decline of Neo-Patriarchy in the Gulf", Comparitive Studies of South Asian, Africa and the Middle East (Spring 2008).
"Ambivalent Anxieties of the South Asian-Gulf Arab Labor Exchange", Revista de Economia Mundial 14 (2006): 31-56.
 "The Irony of Environmentalism: The Ecological Futility but Political Necessity of Life Style Changes", Ethics and International Affairs 19:3 (Fall 2005), co-authored with Paul Wapner.
 "Work Productivity When Knowledge of Different Reward Systems Varies: Report from an Economic Experiment", Journal of Economic Psychology 25 (2004): 591-600, co-authored with Richard Burchett.
 Remaking the Conquering Heroes: The American Occupation of Germany, Palgrave Academic Press, 2001.
Area of Expertise
U.S. and European economic history, foreign aid and international economic policy, methodology, workplace participation, labor issues, Middle East, political economy of higher education
Additional Information
John Willoughby is the author of the book Remaking the Conquering Heroes: The Social and Geopolitical Impact of the Early American Occupation of Germany (St. Martin's Press, 2001).