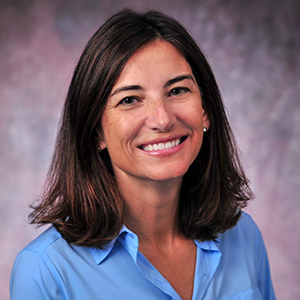 Melissa Hawkins

Director, Undergraduate Programs, Dept. of Health Studies Department of Health Studies
Degrees

Ph.D., Johns Hopkins University
M.H.S., Johns Hopkins University
B.A., Emory University

Bio

Melissa Hawkins is the Director of Undergraduate Programs in the Department of Health Studies at American University. Dr. Hawkins is an epidemiologist with over a decade of experience in the application of public health methodologies to government and private sector challenges. Her expertise is in maternal and child health, with an interest in improving pregnancy outcomes. Currently, her research addresses the integration of Community Health Workers (CHW) in the U.S. health workforce, in both clinical and community-based teams, and examining the effectiveness of CHWs as change agents in improving health equity. She is also the research director for a 5-year intervention study, funded by the USDA, to improve health literacy and prevent obesity in elementary school students in Washington DC. Before joining American in 2015, she served as Research Director for TMNcorp, a public health communications organization, where she lead the design, conduct, and analyses for epidemiological investigations related to women, infant, and children's health. She also served as a Senior Epidemiologist with Epidemiology International, a contract research organization, where her research focused on resolving methodological and data collection issues in study design and evaluation. Her work focuses on translating data to improve community health. Dr. Hawkins holds a Ph.D. and M.H.S. in Public Health from Johns Hopkins University, where she previously taught undergraduate and graduate students for fifteen years before coming to American University. She is a fellow with the American College of Epidemiology.
Spring 2022
HLTH-480 Public Health Capstone

HLTH-683 Data Analysis in Hlth Sciences
Fall 2022
HLTH-480 Public Health Capstone

HLTH-681 Research Methodology
Scholarly, Creative & Professional Activities
Selected Publications
*student research assistant
Hawkins M, Belson SI, McClave R, Kohls L*, Little S*, Snelling A, (2021) Healthy Schoolhouse 2.0 health promotion intervention to reduce childhood obesity in Washington, DC: A feasibility study. Nutrients, 13. 9, 2935. https://doi.org/10.3390/nu13092935
Hawkins M, Fuchs H*, Watts E, Belson SI, Snelling A. (2021) Development of a nutrition literacy survey for use among elementary school students in communities with high rates of food insecurity. Journal of Hunger and Environmental Nutrition. https://doi.org/10.1080/19320248.2021.1928577
Bertrand A*, Hawkins M, Cotter EW, Snelling A (2021) Interest in receiving nutrition information through social media among food security program participants in Washington DC. Preventing Chronic Diseases. DOI: https://doi.org/10.5888/pcd18.200596.
Hawkins M, Misra D, Zhang L, Price M, Dailey R, Giurgescu C. (2020) Family involvement in pregnancy and psychological health among pregnant black women. Archives of Psychiatric Nursing. Special Issue: Social Determinants of Health. https://doi.org/10.1016/j.apnu.2020.09.012
Hawkins M & Panzera, A. (2020) Food insecurity: A key determinant of health. Archives of Psychiatric Nursing. Special Issue: Social Determinants of Health. doi:https://doi.org/10.1016/j.apnu.2020.10.011
Hawkins M. (2020) Quarantine bubbles limit coronavirus risk and help fight loneliness. Delaware Journal of Public Health. 8:2B
Rao R, Hawkins M, Ulrich T, Gatlin G*, Mabry G*, Mishra C.* (2020) The evolving role of public health in medical education. Frontiers in Public Health. 8: 251. doi: 10.3389/fpubh.2020.00251.
Hawkins M, Watts E, Belson SI, Albershardt R, Snelling A. (2019) Design and implementation of a 5-year school based nutrition education intervention. Journal of Nutrition Education & Behavior; 52(4): 421-428. doig: 10.1016/j.jneb.2019.12.005.
Invited Articles
Hawkins M. How to host a safe holiday meal during coronavirus - an epidemiologist explains her personal plans. The Conversation, November 10, 2020. https://theconversation.com/how-to-host-a-safe-holiday-meal-during-coronavirus-an-epidemiologist-explains-her-personal-plans-149144
Hawkins M. What the huge undercount in COVID-19 testing in the U.S. means. The Conversation, August 5, 2020. https://theconversation.com/what-the-huge-covid-19-testing-undercount-in-the-us-means-143796
Hawkins M. The U.S. isn't in a second wave of coronavirus-the first wave never ended. The Conversation, June 30, 2020. https://theconversation.com/the-us-isnt-in-a-second-wave-of-coronavirus-the-first-wave-never-ended-141032 
Hawkins M. Quaranteams-when done right-limit coranavirus risk and help fight loneliness. The Conversation, June 17, 2020. https://theconversation.com/quarantine-bubbles-when-done-right-limit-coronavirus-risk-and-help-fight-loneliness-140134