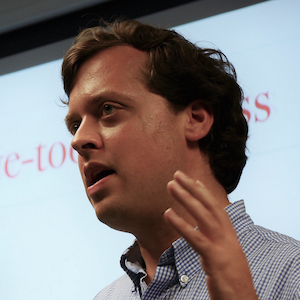 Mark Nelson

Asst Professor Department of Computer Science
Degrees

PhD, Computer Science (Georgia Institute of Technology)

BSc, Computer Science (Harvey Mudd College)

Languages Spoken

English, Greek (modern), and a little Spanish

Favorite Spot on Campus

Outdoors!

Bio

Prof. Mark J. Nelson is a computer scientist with a research focus on artificial intelligence (AI). His research primarily uses games as a domain of study. This includes: technical research that uses games to analyze the robustness of AI decision-making algorithms; work on bots that can play and analyze games; design-support work that uses AI to empower professional and novice designers; and conceptual work on formal models of games' mechanical and meaning-making elements. In addition to the Department of Computer Science, he researches and teaches in the interdisciplinary AU Game Center.

He is currently (2020–2023) the Principal Investigator of the National Science Foundation research project Characterizing Algorithm-Relative Difficulty of Agent Benchmarks.

Other research interests include computer music, domain-specific programming languages, and the history of computing.

Before coming to American University, he was a faculty member, researcher, and student at various places around the world: Falmouth University (UK), the IT University of Copenhagen (Denmark), the University of California Santa Cruz (USA), the Georgia Institute of Technology (USA), and Harvey Mudd College (USA).
Spring 2022
CSC-421 Design & Org Programming Lang

CSC-465 Operating Systems