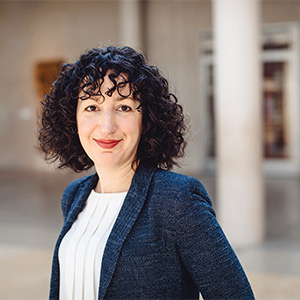 Nika Elder

Assistant Professor Department of Art
Bio

Nika Elder specializes in North American art from the colonial period to the present, including African-American art and the history of photography. Her current research and courses examine the mutually constitutive relationship between art and race throughout modern American history.

Prof. Elder is completing a book about still-life painter William Harnett and the cultural demands upon painting at the start of the industrial era. A related research article, "William Harnett Shows His Hand," appears in the spring 2016 issue of the Archives of American Art Journal.

In addition to her work on Harnett, Prof. Elder has published on Lorna Simpson (Art Journal, spring 2018), Ad Reinhardt, and James Abbott McNeill Whistler. Her second book focuses on colonial artist John Singleton Copley and race.

This research has been supported by Winterthur Museum, Garden and Library, the Amon Carter Museum of American Art, Crystal Bridges Museum of American Art, the Center for Advanced Study in the Visual Arts at the National Gallery of Art, the Wyeth Foundation, and the Smithsonian American Art Museum, as well as the Department of Art and Archaeology and the Program in American Studies, among other entities, at Princeton.

Before coming to AU, Prof. Elder taught at the University of Florida, Vassar College, and Princeton University. She received her PhD and MA, with a certificate in Media and Modernity, from Princeton University, and BA in art history and studio art from Wellesley College.

In spring/summer 2018, Prof. Elder will be on leave as Chester Dale Fellow at the Metropolitan Museum of Art.
Scholarly, Creative & Professional Activities
Selected Publications
William Harnett and the Afterlife of History Painting (manuscript in progress)
"John Singleton Copley and Concerns of the Flesh" (in progress)
"Lorna Simpson's Fabricated Truths," Art Journal (spring 2018), pgs. 30-53.
"William Harnett Shows His Hand," Archives of American Art Journal (spring 2016), pgs. 26-49.