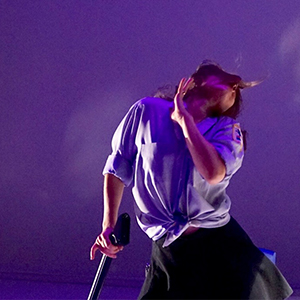 Sarah Beth Oppenheim

Adjunct Professorial Lect Department of Performing Arts
Degrees

BFA in Dance Performance from SUNY Purchase,
MFA in Dance from University of Maryland

Favorite Spot on Campus

The Bridge

Bio

Sarah Beth Oppenheim hails from the Wild, Wild West where she could never cut on the dotted black line, so she read Steinbeck and became a modern dancer instead. She earned her BFA at SUNY Purchase and MFA at University of Maryland. Career highlights include dancing in forsaken storage closets and performing for Baryshnikov with kale in her incisors, along with gigs at Dance Omi, Ponderosa, the Kennedy Center, Dance Place, The Duke on 42nd St., Marfa, TX, on top of the Chelsea Hotel, National Gallery of Art, U.S. Botanic Garden, and secret performances in Lincoln Center's Koch Theater when she was done cleaning up at the end of the night. As an inaugural Artist in Residence at Dance Place from 2018-2020, she programmed and facilitated community events for students and choreographers, created new works exploring hypermagicalrealism, politics, and race, and established a research practice of land, music, and movement acknowledgement. She currently works as Artistic Director of Heart Stück Bernie, Community Organizer with 120 Project, Education Coordinator for Blacklight: A Dance Summit, and Adjunct Professorial Lecturer at American University and George Washington University. Current research includes site-specific meaning making, social justice community engagement, acknowledgement practices, and subversive and durational studio pedagogy.
Fall 2022
DNCE-205 Dancing Body in a Moving World
Spring 2023
DNCE-114 Dance Improvisation

DNCE-205 Dancing Body in a Moving World