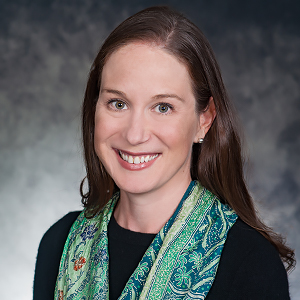 Tabitha Kidwell

Professorial Lecturer & Department Associate Chair, World Languages & Cultures World Languages and Cultures
Degrees

Ph.D., Applied Linguistics and Language Education, University of Maryland
M.A., Foreign and Second Language Education, The Ohio State University
B.S., French and Spanish Education; B.A., French, Miami University

Bio

Tabitha Kidwell is a language teacher and teacher educator interested in the role of culture in language teaching, how students develop intercultural competence, and the ways teachers are prepared to teach about culture. She has taught French, Spanish, and English to students ranging from pre-schoolers to adults, and has conducted professional development for language teachers in Indonesia, Malaysia, India, Rwanda, Ethiopia, Tanzania, and the United States. Dr. Kidwell is a member of the Standards Professional Council for TESOL international, and a frequent presenter at regional and international TESOL conferences. She began her career in language education as a Peace Corps Volunteer in Madagascar, from 2004 to 2006.
Spring 2021
TESL-010 Acad Writing for Grad Students

TESL-427 Cultrl Issues ESL/EFL Classrm
Scholarly, Creative & Professional Activities
Selected Publications
Kidwell, T.  & Triyoko, H. (Accepted). Language awareness as a resource for multilingual individuals' learning about culture: A Javanese case study. Journal of Multilingual and Multicultural Development.
Kidwell, T. (in press). Protectors and preparers: Novice Indonesian EFL teachers' beliefs regarding teaching about culture. Language and Intercultural Communication. http://doi.org/10.1080/14708477.2021.1913179
Kidwell, T., Peercy, M. M., Tigert, J., & Fredricks, D. (2021). Humanizing language and literacy development: A study of novice teachers' use of pedagogical language knowledge. TESOL Journal. https://doi.org/10.1002/tesj.590
Peercy, M.M., Kidwell, T., DeStefano, M., Tigert, J., Fredricks, D., Feagin, K. & Stump, M. (2020).  Experts at being novices: What new teachers can add to practice-based teacher education efforts. Action in Teacher Education, 42(3), 212-233. https://doi.org/10.1080/01626620.2019.1675201
Kidwell, T. (2019). Teaching about teaching about culture: The role of culture in second language teacher education programs. Teaching English as a Second Language Electronic Journal, 22(4), 1-16. http://www.tesl-ej.org/wordpress/issues/volume22/ej88/ej88a8/
Kidwell, T. & Pentón Herrera, L. (2019). Culturally sustaining pedagogy in action: Views from Indonesia and the United States.  Kappa Delta Pi Record, 55(2), 60-65.
Pentón Herrera, L. & Kidwell, T.(2018).  Literature circles 2.0: Updating a classic strategy for the 21stcentury. Multicultural Education, 25(2), pp. 17-21.
Professional Presentations
[Selected and Recent]
Kidwell, T., Awadh, A., Charway, O., Sidahmed, A., & Tcheuntche, J. C. (2020, November). Project-Based instruction: Integrated language learning for the 21st century. Africa ELTA webinar series. Available at: https://www.youtube.com/watch?v=O5uKcmnMli8
Kidwell, T. (2019, April). A cultural balancing act: The learning, practices, and beliefs of novice Indonesian teachers of English. Paper presented at the Annual Meeting of the American Educational Research Association. Toronto, Canada.
Kidwell, T. (2019, March). Beyond intercultural communication: Culture in the Indonesian TESOL Context. Presentation at theTeachers of English to Speakers of Other Languages International Convention. Atlanta, GA.
Kidwell, T. (2019, October) Formative assessment strategies for the student-centered classroom. American English Live 6.5 (Funded by the U.S. Department of State, presented to 17,000 EFL teachers worldwide) Available at: https://www.youtube.com/watch?v=gyyXRXYPnDE
Kidwell, T. (2017, June) Building global citizenship through intercultural language teaching. American English Webinar 6.5 (Funded by the U.S. Department of State, presented to 1600 EFL teachers worldwide). Available at: https://www.youtube.com/watch?v=xnNAevtcjcw
Kidwell, T.  (2017, May).  Building students' 21st century skills through project-based instruction. Presentation at the Africa TESOL conference, Kigali, Rwanda.