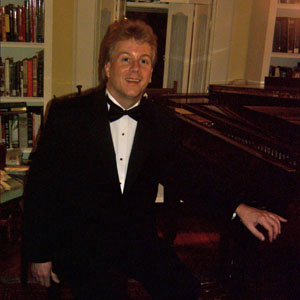 Matthew Van Hoose

Musician in Residence Department of Performing Arts
Additional Positions at AU

Collaborative Pianist

Degrees

Doctor of Music degree in Piano Performance from Indiana University, a Master of Music degree at Indiana, Bachelor of Music degree in Piano Performance and a Bachelor of Arts in Economics from Oberlin College and Conservatory of Music.

Bio

Hailed by the Baltimore Sun for his "spirited and polished playing," Matthew Van Hoose has established himself as one of the most sought-after pianists in the Baltimore-Washington area. Dr. Van Hoose has performed with members of the Baltimore Symphony Orchestra and the Post-Classical Ensemble. He has appeared as concerto soloist with the Virginia Symphony, the NIH Philharmonia, the Virginia Beach Pops Orchestra, the Oberlin Conservatory Symphony Orchestra and the Indiana University Symphony Orchestra. Matthew has also performed with many world-renowned artists, including flutist Jonathan Snowden and clarinetist Loren Kitt. He has studied and performed at such prestigious music festivals as Chautauqua, Sarasota and Kent-Blossom. Dr. Van Hoose has won prizes at several competitions, including an Honorable Mention in the 2002 Bartok-Kabalevsky-Prokofiev International Piano Competition. His principal teachers have been Walter Noona, Lydia Frumkin, and Gyorgy Sebok. A native of the area, Matthew currently resides in the greater Washington, D.C. area and is also on the faculty of Sidwell Friends School. Additionally, he is the ballpark organist for the Washington Nationals.
Spring 2023
MUS-021 Private Instrument Study: Piano

MUS-022 Private Instrument Study: Piano

MUS-121 Private Instrument/Vocal Study: Piano

MUS-122 Private Instrument/Vocal Study: Piano
Fall 2023
MUS-021 Private Instrument Study: Piano

MUS-022 Private Instrument Study: Piano

MUS-121 Private Instrument/Vocal Study: Piano

MUS-122 Private Instrument/Vocal Study: Piano