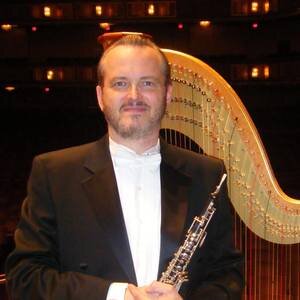 William Wielgus

Adjunct Professorial Lect Department of Performing Arts
Bio

Oboe professor William Wielgus was a member of the oboe section of the National Symphony Orchestra from 1990 to 2017 upon appointment by Mstislav Rostropovich.  Prior to his appointment with the NSO he also served as principal oboe of the South Bend Symphony and English horn with the Oklahoma Symphony. He is presently on the oboe faculty at American University and has taught at West Virginia University and St. Mary's College. He has also appeared at many major summer music festivals including Aspen, Tanglewood, and Spoleto, and was the winner of the 1990 Aspen Woodwind Soloist Competition.  Mr. Wielgus is a graduate of the University of Wisconsin-Madison, Indiana University, and the Cincinnati College Conservatory.  His principal teachers include Marc Fink, Jerry Sirucek, and Ray Still.

He is actively involved in a project to research, commission, perform, and record Peruvian oboe music and has presented recitals at the conservatories of Lima and Trujillo. In 2018 he presented a recital/masterclass at the Uzbekistan National Conservatory and appeared as soloist with the Banda Nacional de Cuba and the Trujillo Symphony Orchestra in addition to programs of Peruvian music at Indiana University and Southern Mississippi University.  In July 2019 he presented a program of Uruguayan oboe music at the Universidad de la Republica in Montevideo.

Mr. Wielgus also serves on the board of directors and is music advisor for Teatro Lirico of DC, an organization that promotes the performance of classical Hispanic music in the nation's capital.

Spring 2022
MUS-021 Private Instrument Study: Oboe

MUS-022 Private Instrument Study: Oboe

MUS-121 Private Instrument/Vocal Study: Oboe

MUS-122 Private Instrument/Vocal Study: Oboe
Fall 2022
MUS-021 Private Instrument Study: Oboe

MUS-022 Private Instrument Study: Oboe

MUS-121 Private Instrument/Vocal Study: Oboe

MUS-122 Private Instrument/Vocal Study: Oboe