TESOL at American University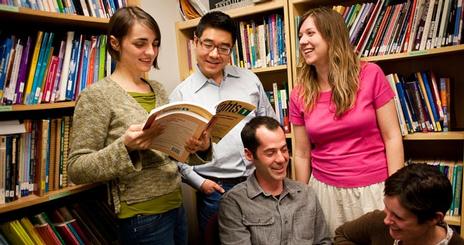 The AU TESOL program aims to be more than just a graduate program, and believes in the importance of creating a community of learners as well as connecting our students to the expanding ESL community in the Washington, metropolitan area. During their course of study, students gain practical, hands-on teaching experience through involvement with local ESL institutions, public schools, or community-based volunteer teaching programs. Additionally, the program regularly hosts a variety of professional development events and conferences, attended by both students and professionals currently working in the field of ESL.
Through its professional development events, working relationships and network of alumni, the AU TESOL program has grown to be an integral part of the ESL community in the Washington metropolitan area.
Programs of Study
Students
Our student body is as diverse as the audience who wishes to learn English. Traditionally, our program has had a significant number of mature students; these include students who have taught ESL/EFL but want to gain teaching credentials, or career switchers, including CIA trainers, former military officers, lawyers, business executives, and diplomats. These days, a larger proportion of our students are graduate students who have recently completed their undergraduate degree programs. Our students bring diverse experiences to the classroom and find that they learn a great deal not only from their professors, but from their peers as well.
Certificates in TESOL
You can think of the Graduate Certificate in TESOL like "half a master's degree." You can roll all your Certificate credits into the MA TESOL program if you decide to continue your graduate studies. The value of a TESOL Certificate often depends on what other educational background and experience you have. For example, someone with a K-12 certification in another discipline might only need a TESOL Certificate to begin teaching ESOL students; or someone with an international business background could supplement that with a TESOL Certificate and become a very successful Business English teacher.
Same applies to the Undergraduate TESOL Certificate, but courses completed at an undergraduate 4xx-level cannot be transferred towards the Master's degree. If you are an undergraduate student interested in pursuing an MA in TESOL, consider applying to our combined BA/MA in TESOL.
The TESOL Certificate is a very good credential for someone who is looking for a way to support themselves abroad, because it shows that not only are you a fluent speaker of English, but that you know your way around an ESL/EFL classroom, too. In the U.S., the Certificate is a very good credential for those in the field of Adult Education and often in private language schools that teach English. Please note that the Graduate Certificate in TESOL DOES NOT lead to K-12 certification.
MA in TESOL
This is the terminal teaching degree in our profession. Those with an MA in TESOL are qualified to teach English almost everywhere in the U.S. and abroad: in university intensive English programs, in community college programs, in private schools, and in adult education programs.
For international students, the MA in TESOL is often the best choice even if you plan to teach elementary, middle, or high school. The difference between the MA in TESOL and the MAT: ESOL is that the extra coursework in the MAT program satisfies K-12 certification standards required in the U.S. You do not need this certification to teach in schools outside the U.S. As far as preparing you to teach children, both programs offer very similar preparation.
Combined BA/MA in TESOL
Undergraduate students at American University in other programs of study may apply to the MA in TESOL program during their Junior year, and if accepted they can take six credits of TESOL coursework which can be applied to both their undergraduate and graduate degrees. This makes it possible to finish the MA in TESOL in three semesters. MA in TESOL can be done through the combined BA/MA in TESOL option.
MA in TEFL Online:
Please Note:
The MA in TEFL program is currently suspended until further notice.
The online MA in Teaching English as a Foreign Language (TEFL) program is designed specifically for students interested in teaching English as a Foreign Language (EFL) in secondary schools, universities, and private language schools outside of the United States.
MAT: ESOL
If you want to teach in grades K-12 in public schools in the U.S., and you don't have teaching experience in that environment, this is the program you should consider. It satisfies all the District of Columbia coursework requirements for public school ESOL licensure (certification), and DC certification is recognized in more than 30 states. In addition to the MAT: ESOL coursework, you will also need to pass the PRAXIS exam, and may have to take additional undergraduate courses depending on your academic background and the jurisdiction you plan to be working in. For more information about the MAT: ESOL program visit the School of Education.
Students pay tuition per credit hour. For up to date information on tuition costs, see Tuition and Fees.
No background in linguistics is required or assumed. We'll teach you the linguistics you need.
The TESOL program offers the following programs in TESOL: MA in TESOL, MA in TEFL online, BA/MA in TESOL, Graduate and Undergraduate Certificate in TESOL.
In these programs. you can prepare to teach adults in higher education, in professional settings, in adult education and adult literacy instruction environments typically oriented toward recent refugees and immigrants, and to children in ESL and EFL contexts. However, our TESOL programs do not provide certification to teach in K-12 settings in the U.S.
The School of Education (SOE) offers an MAT: ESOL degree in partnership with the TESOL program that provides K-12 teacher certification.
Graduate Certificate in TESOL
It depends on how many courses you would like to take per semester. The minimum length of the Certificate program is 2 semesters. However, some students choose to take only one course per semester and stay in the Certificate program for up to five semesters. 
BA/MA TESOL
This program is designed to be completed in as few as five and half years. Bachelor's/Master's students must complete at least 18 in-residence credit hours at the graduate level after the bachelor's degree is earned and maintain continuous, sequential enrollment in both programs. 
MA in TESOL
This program is designed to be completed in four semesters of full-time enrollment. Students who choose to take courses full-time including in the summer, complete the program in 16 months, and students enrolled part-time stay in the program longer.
MAT: ESOL
This program is designed to be finished in four to six semesters depending on course availability and arrangement of student teaching assignments.
For more information about the ESOL program, please visit the School of Education.
The MA in TESOL program requires completion of a Teaching Portfolio and Oral Comprehensive Exam during the last semester of the program.
Most of our courses are conveniently offered in the evenings. We do occasionally have afternoon, late evening, and weekend courses, but in most cases, the 3-credit courses meet from 5:30pm to 8:00pm. Our courses typically meet once a week for 2.5 hours in the Fall and Spring semesters. Visit our Courses page for more information.
TESOL stands for Teaching English to Speakers of Other Languages, and is probably the most general of these terms. 
EFL stands for English as a Foreign Language (TEFL - Teaching English as a Foreign Language) and refers to teaching English in a place where it is not widely spoken and is a foreign language. 
ESL stands for English as a Second Language (TESL - Teaching English as a Second Language), and usually refers to teaching English to non-native English speakers in a country where English is widely spoken (like the U.S.). 
ESOL stands for English for Speakers of Other Languages and is usually used to refer to teaching ESL in schools (K-12) in the U.S. 
ELT stands for English Language Teaching.
At this time, we do not offer any online courses. All course work must be completed on campus.
See more FAQ for prospective and new students.