Dr. Krzysztof Pietroszek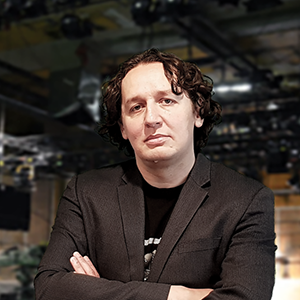 Executive Director of the Institute for IDEAS
Bio
Dr. Pietroszek is an Associate Professor in Film and Media Arts division of the School of Communication. He is the Founding Director of the Institute for Immersive Designs, Experiences, Applications and Stories (Institute for IDEAS), an Associate Director of the Center for Environmental Filmmaking, and is also affiliated with the Game Lab, and the Department of Computer Science. Krzysztof teaches immersive filmmaking courses in the undergraduate and graduate film programs and game development courses. His research interests include application of machine learning to media, designing volumetric cameras and telemedicine equipment, and developing technologies related to creating films and interacting in virtual and augmented reality. Krzystof holds a Ph.D. in Computer Science from the University of Waterloo, Canada, M.F.A. in Film, York University, Canada, M.A. in Communication Studies, Wilfrid Laurier University, Canada, and B.Sc./M.Sc. in Computer Science with courses in Archeology.

Dr. Pietroszek is also a filmmaker, who produced an award-winning feature film ("Waiting for Summer"), wrote and directed six short fiction and documentary films ("Private Apocalypse of Tim", "Agape", "Daniel", "Eve", "Greenscreen", and "Vera"), and created a transmedia mixed-reality experience ("Vera"). For demo real, visit Dr. Pietroszek vimeo page

Krzysztof also developed several VR video games ("Cube VR", "Chessnaught VR") and published over 50 peer-reviewed research papers cited over 650 times . Dr. Pietroszek's research is supported by National Science Foundation, Canada Media Fund, private industry partners, and other federal funding agencies.To date, Krzysztof raised nearly 3,000,000 USD in various funding.

A true explorer, Krzysztof hitch-hiked 30,000 miles, climbed Kilimanjaro, Mt Blanc, almost died at Matterhorn, and backpacked in over 60 countries.