Alumni
Estate Gift Helps Library Innovate During COVID-19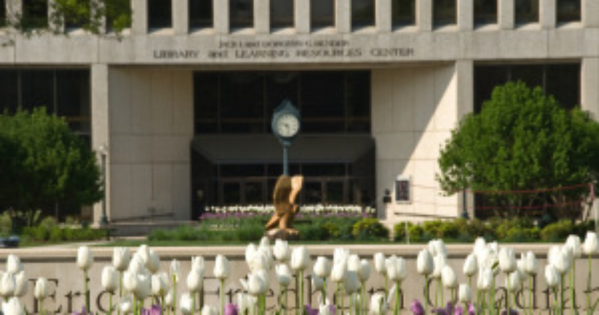 When the late Doris Blaisdell, CAS/BA '44, planned an estate gift to American University, she could not have known that her generosity would impact the university at a pivotal moment in history. But that's exactly what happened.
In June 2020, the University Library received an unrestricted gift from Blaisdell's estate. To provide long-term support for the library, a portion of the gift went into an endowment, and the library utilized the remaining gift funds to help offset critical costs related to COVID-19. In uncharted territory, the gift helped library staff find solutions for the fall semester.  
A major part of those solutions involved making materials available online for many of the 3,000+ fall courses offered by AU—which is especially important for students with financial constraints. "While the library owns physical books that correspond with AU's courses, that does not always include an electronic version," explains Rob Kelshian, the library's director of access services. "Many of AU's students rely on the library's course reserves system—they are not all able to buy books every semester."
Due to the online environment, the library had to purchase a vast number of electronic books for course reserves and develop a scanning system for books that are not available in a digital format. In addition, compared to fall 2019, requests for digitizing other materials this year are ten times higher.
While adapting standard services during the pandemic, the library also navigated unforeseen challenges—such as the need for students to return more than 1,000 books borrowed pre-COVID. To reduce the financial burden on students, the library sent them pre-paid shipping supplies.
Blaisdell's gift empowered the library to work quickly—and put students first—during a critical time.
"This gift has been a godsend," says Kelshian. "Everything we do at the library is to meet student needs. These funds have helped us meet those needs as they arise during the pandemic—it has made a huge difference in providing services and resources. It's incredible."  
Unrestricted funds have taken on new meaning during COVID-19. Such gifts give AU invaluable flexibility to overcome challenges as they emerge and provide support where it's most needed, when it's most needed. For the library, Blaisdell's gift has also buoyed staff who are working tirelessly to support students and faculty.
"There is no way to fully express our appreciation," Kelshian says. "Not only for this gift, but for all donors. While the library has seen the benefit of Blaisdell's gift, all of AU benefits from the generosity of others. And that support is so important in helping us do everything we do—especially with the extraordinary things we are called to do."
For information on how your charitable estate planning can create a legacy at AU, contact Seth Speyer, executive director of planned giving, at 202-885-3411 or speyer@american.edu; or visit american.eduplannedgiving