Alumni
The Power to Change a Life 20th Celebration of Scholarships Honors Impact of Support and Thanks Donors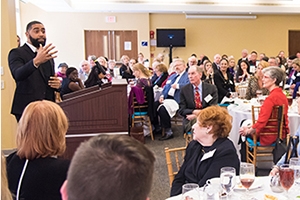 Over 500 donor-funded scholarships are presented each year at American University. Already this year $2.2 million has been given to students in donor-funded awards. Scholarship donors ensure access to the exceptional resources of an AU education.
On March 22, 2017, more than 150 student scholars, AU leadership, faculty, and generous donors gathered for the 20th Celebration of Scholarships to applaud the successes of AU's scholarship recipients and extend the AU community's deep appreciation to the donors who made those accomplishments possible.
Mycal Ford, SIS/MA '17, recipient of the Martin H. Steiner Scholarship, addressed the group. "The narrative I'm compelled to share with you is to emphasize the importance of scholarships overall and the power they have to not just change one person's life, but also tackle much larger systemic problems that beset our society." Ford detailed a childhood beset with violence and intergenerational poverty. It is education that broke the cycle.
"My education-and the scholarship support that made it possible-has catapulted me to the ends of earth and back again," Ford said. "As a graduate student at the School of International Service, I have interned in the Senate and traveled to China twice: first, as part of the U.S. Department of State Critical Language Scholarship and second, as a David L. Boren National Security Graduate Fellow. While in China, I studied at one of China's leading universities-Tsinghua University. I won their eighth annual speech contest. I published an article regarding China's military priorities in The Hill, interned at the Hudson Institute and now at a start- up think tank. It's been a busy two years, but fulfilling nonetheless."
Ford is the inaugural recipient of the Martin H. Steiner Scholarship which was created to enable AU students to pursue careers in foreign service. Ford said, "I have come to learn that Martin Steiner and I share a love of languages and a commitment to service that has led us around the globe. Both of us share important career ties to Taiwan and China. I am proud that through my own work made possible by the endowed scholarship to honor his legacy, I can help perpetuate Martin Steiner's intellectual curiosity and commitment to diplomacy." He continued, "in much the same way, today I represent a host of family members: from my grandfather who was locked out of education because of Jim Crow, to my mother who has ruthlessly fought for our survival. I can't help but feel a profound sense of gratitude-to my mom, friends, mentors, and educators. I am also thankful for donors like yourselves who have the access, the power, and the generosity to invest in students, like myself, and many others, at American University."
Ford was one of several students featured in a video that was viewed at the luncheon. The video, entitled The Letter, illustrates the many ways scholarship support is advancing the educational opportunities of American University students.
Madison Chapman, CAS '19, recipient of the Harold and Sylvia Greenberg Performing Arts Scholarship, sang "One Kiss" from New Moon, written by Sigmund Romberg and Oscar Hammerstein. Chapman is a sophomore from Southington, CT, double majoring in Musical Theatre and K-12 Performing Arts Education. She has performed in several AU productions (the premiere JQA: A Theatrical Inquiry, No No Nannette, Sweet Charity, and Fiddler on the Roof). She is a professional teaching-artist at Imagination Stage and Horace Mann Elementary School.
Neil Kerwin, president of American University, and Gail Short Hanson, vice president of campus life, thanked the donors who, collectively, support graduate and undergraduate scholarship in every school within the university. Donors support academic merit, student need, research, interest areas, experiential learning, and campus life opportunities that enrich the AU student experience.
Courtney Surls, vice president of development and alumni relations, observed that this is the final Celebration of Scholarships for both Kerwin and Hanson in their current positions; Hanson is retiring at the end of March after 20 years of guiding campus life, and Kerwin will be stepping down as president in May after a decade of transformative change. Surls thanked them both for their leadership and support. "Gail has been a great advocate for students," said Surls. "As a mentor and leader, she has challenged our AU community to be involved, to be inclusive, to be of service, and to be leaders." Of Dr. Kerwin, Surls noted, "in addition to his many accomplishments as president, his legacy includes his family's strong commitment to scholarship. The Neil and Ann Kerwin Doctoral Fellowship Fund was established 2004 to provide an annual award that supports dissertation research within the School of Public Affairs." Surls recognized luncheon attendee Stephen Holt, SPA/PhD '17, the Neil and Ann Kerwin Doctoral Fellowship recipient who, at the time of the Celebration of Scholarships event, was just days from his PhD dissertation defense.
Scholarship awardees were presented with medals to honor their success and determination in pursuing their intellectual passions.
Scholarship funds directly impact the lives of American University students by making tuition assistance available based on both need and merit. To learn more about funding scholarships and other university priorities, please contact 202-885-5900 or giving@american.edu.