Parents & Families
DC Provides Cultural and Historical Connections for AU Students and Families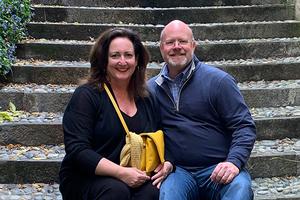 For Michael and Amy Ferachi, parents of Harrison, SPA/BA '21, watching their youngest son move from their home in Baton Rouge, Louisiana, to Washington, DC, was an emotional transition. Still, they knew AU would be a safe and welcoming home away from home for Harrison. "We trusted AU to mold him. We know with the university's prestige, being an Eagle will mean something to Harrison when he graduates," Michael said.
So much of Harrison's formative experiences stem from AU's location. Michael noted two big advantages to studying in DC: ready access to internships and being a part of historic events. "Harrison was working for a lobbying group and then a member of Congress on the intelligence committee," Michael recalled. "He could go to a hearing and watch the impeachment proceedings. He was watching history being made."
The Ferachi family has been impressed by how accessible DC is to AU students. Nestled in the Northwest corridor, AU offers a quintessential college campus within a few metro stops of the White House, Capitol Hill, and 175 embassies. Michael notes that this kind of access to decision makers and international culture is made possible by AU's integration with DC. The metro pass provided to students makes it easy for Harrison to explore the district. Michael remarks that with the metro pass, "it's not a problem to explore the city, whether it's going to get coffee, visiting the Smithsonian museums, or commuting to internships."
As members of the Parent Leadership Council (PLC) executive committee, Michael and Amy visit campus as much as they can to see Harrison and to see the faculty and staff with whom they have built relationships over the years. One of their fondest memories was moving Harrison into AU in fall 2017. "We were some of the first people on campus," Michael remembers. "We pulled up, unloaded him, and then had the rest of the time to meet people." That weekend they began important friendships with AU leaders such as Vice President Fanta Aw, who oversees many of the campus life opportunities that have enriched Harrison's time at AU.
It is because of Harrison's high-quality experience that the family continues to give back as university volunteers. They have returned to campus to welcome incoming families during Eagle Summit orientations, and phone fellow Louisiana parents. The impetus to give back to AU extends to Harrison, who has served as an AU Ambassador with the admissions office since his first year. Michael remarks, "In the first semester of his first year, Harrison had prospective students sleeping on his floor. He loved AU so much, he was already in the process of selling it to other high school students."
The Ferachi family suggests other AU parents stay involved with the community. Participating in regional events and connecting with other families on campus provide opportunities for parents to experience AU for themselves while allowing their students room to grow. "Support your student and support the university," Michael says. "I view myself as an ambassador. I want AU to succeed. I want people to go to AU." They encourage others to help by connecting with incoming families in their area, championing the university, and getting people interested in learning more and visiting campus. By staying involved, even from Baton Rouge the Ferachi family can stay connected to Harrison in his new DC home.