Alumni
Emergency Relief Fund Helps Students in the Face of COVID-19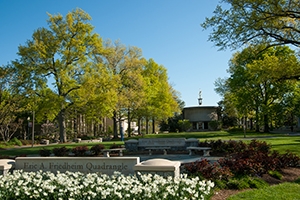 This spring, colleges across the country faced unprecedented challenges from the global COVID-19 pandemic. In response, American University took action to ensure the health and safety of its community. Classes moved online, many employees pivoted to remote work, and "social distancing" quickly became part of everyone's vocabulary.
Over the past few months, Eagles far and wide came together to assist students in navigating this unique set of circumstances. Right away, many members of the alumni community reached out to ask how they could help.
"None of us have faced what these students are going through," says Ritanch Hans, SIS/BA '13, Kogod/MS '15, who is president of the AU DC Young Alumni Chapter. "This is a time to give back and be supportive."
AU moved swiftly to establish the Student Emergency Relief Fund, which supports students facing urgent financial challenges as a result of COVID-19. Within three days of the initial announcement regarding AU's move to online classes, the fund was up and running.
With support from donors, the university helped dozens of students cover travel costs to safely depart campus. AU also worked with more than 60 students who remained on campus in emergency housing; gifts to the fund helped supplement meal plans and provide other day-to-day necessities.
"My experience with emergency housing could not have been any better...they made us feel like we were a community, even in times of social distancing," shared one undergraduate student. "I appreciated how much they cared for us and provided a helping hand at all times. I could thank them a million times and it still wouldn't be enough!"
During a time of extreme uncertainty, the fund accomplishes more than these critical tangible outcomes. "The support from our community has helped our students feel cared for, seen, and valued," said Dr. Fanta Aw, AU's vice president of campus life and inclusive excellence. "The impact has been felt by many."
Knowing that these students faced additional complications as a result of COVID-19—in an already rapidly changing environment—felt personal to many fund donors, including Ritanch Hans.
"I have a cousin who is at another university. He's been staying with me for the last two months because he can't go home to India right now," Hans explains. "I know not every student is lucky enough to stay with family—I felt it was important to try and help."
While the spring semester has ended, many students still face significant difficulties from the pandemic, due to lost wages, changing family finances, and other shifts in everyday life. The Student Emergency Relief Fund remains active and aims to continue providing help and support for students in need.
Do you want to support AU students? If you are able, please consider a gift to the Student Emergency Relief Fund and help the Offices of Campus Life and Financial Aid quickly and effectively help students who need support during COVID-19. In addition, the AU Fund for Excellence directs vital support to address the ongoing needs of our students, faculty, and staff. To make a gift, please visit go.american.edu/eaglesupport.