Science
Going Remote: Interning in Health Advocacy During COVID-19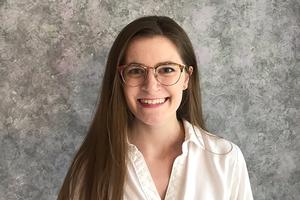 Having just returned from a semester abroad in the Czech Republic, School of Public Affairs student Julianne Kelleher hadn't planned on securing an internship this semester. But when a staff member from the National Association of County and City Health Officials (NACCHO) visited Kelleher's health policy class early this year, he mentioned the organization needed one more undergraduate intern—and Kelleher knew it was too good to pass up.
Based in DC, NACCHO represents 3,000 local health departments across the United States. The organization provides resources for and advocates on behalf of local health departments.
"As a political science major and public health minor, it was great to hear from someone working on the political science side of public health," says Kelleher. "NACCHO is well known in the public health universe and I was really excited for the chance to see what public health advocacy looks like in practice."
Typically, NACCHO—which has brought on other AU students in recent years—aims to have one undergraduate or graduate intern each semester. In more ways than one, timing was on Kelleher's side this past semester. She landed the internship and joined just in time to help with NACCHO's public health advocacy day on Capitol Hill, held on February 26.
"That's one of the coolest AU moments I've had," Kelleher says. "Two weeks before the country shut down, I was in public health meetings on the Hill where they were talking about COVID, they were talking about the public health loan repayment act—I got to speak about that as someone who would potentially benefit. It was unreal."
When everything did change as a result of COVID-19, Kelleher stayed focused. From her parents' home in Natick, Massachusetts, she let NACCHO know she was still available to help. Since then, she's been doing just that by taking notes during hearings and calls, drafting congressional testimony on NACCHO's public health repayment act request, and being "on call" during an unpredictable time.
"They've been very generous in allowing me to develop skills and see what public affairs looks like in the field. I'm very fortunate to be able to learn on the job with this organization," Kelleher says.
If not for the pandemic, Kelleher would be helping NACCHO with things like appropriations requests, public health workforce development, and listening to broadcasts of congressional hearings. In a way, COVID-19 has made the internship even more relevant—including the fact that it's now a remote position.
"You don't always get to work on high priority tasks, especially if you have structured time in the office. Doing it this way, I'm working on time sensitive things, and I feel I've gotten a lot out of it," she explains.
Internships are an integral part of the AU experience; 91% of students participate in them during their time at the university. Like Kelleher, many students with internships have had to pivot this spring in response to COVID-19, and many graduating seniors will be looking for jobs. To help them navigate the changing environment, AU's Career Center now offers COVID-19 Career Resources, which includes topics like the top skills for a remote job, virtual networking during quarantine, and acing a virtual interview.
Kelleher—who has another semester at AU before she graduates—thinks experience with remote positions may be a required qualification down the road.
"I think it's an important question—staying on schedule, sticking to a regime without the structure of an office," she says. "It's a skill to develop."