Alumni
Scholarship Students Study Education, Empowerment, and Equality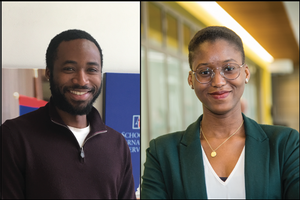 Martin H. Steiner, SIS/MA '92, an American University alumnus, proudly served as a foreign service officer for the US Department of State. His career took him to Mexico City, Havana, Taipei, Guangzhou, Vienna, and Ciudad Juarez. The Martin H. Steiner Scholarship Fund, established in 2013 to honor his memory, supports students enrolled in master's degree programs in the School of International Service who are preparing for careers in diplomacy and foreign service. 
Rachel Oguntola, SIS/MA '20, and Adam Odomore, SIS/MA '19, are current recipients of the Martin H. Steiner Scholarship. 
Oguntola is originally from Lagos, Nigeria, where she interned with multinational corporations. In DC she served as the inaugural US-Africa Business Center fellow at the US Chamber of Commerce. Her future career plans include educating people about Africa and working in development.
"I'm from a developing country myself," said Oguntola. "I've raised funds for Ebola orphans and children's clinics in Tanzania. But development is very different from the private sector or business."
Odomore is from Benin City, Nigeria, and wants to work in development geared toward improving education for women and girls and increasing male engagement in advancing gender equity. 
"My first internship in development was with Women for Women International," he said. "I got to intern for the programs and business development units, and I learned about male engagement, which is the bulk of my work now."
Futures in Development
Oguntola said her favorite part about AU has been, "learning about different countries and histories, as well as learning about different sectors of development work." Her favorite class was the introductory course on international development. 
"I want to practice what I've learned in development related to Africa in the private sector," she said. "There's so much people don't know about Africa. I have a lot of potential to educate others by combining my background in business and development." 
For Odomore, AU's international development program has taught him about the key players and concepts of the field, but more importantly, it helped him learn more about himself. 
"In grad school I learned who I am as a person," said Odomore. "What my values are, what my passions are, and how I want to give back to the world. You learn the importance of relationships in graduate school—making connections, networking, creating meaningful relationships." 
The Importance of Scholarship Support
Both students are grateful for the chance to study at AU and the opportunities they've been able to access in the field of international development. 
"Scholarships have been the backbone of my education," said Oguntola. "Without the Martin H. Steiner Scholarship award, I would not have been able to attend AU. I'm grateful to have it. The scholarship has taken the burden off me financially."
Oguntola will have the option to re-apply and continue to be a Martin H. Steiner Scholarship recipient next academic year. Odomore will graduate in May 2019.
"Thank you to the anonymous donor for being open and willing to support someone like me, someone they don't know," said Odomore. "They made a bridge between us. I have very good memories of the people and professors at American University. After graduation I'm not going to go away. I'm always going to come back to AU. I will be giving back to the school in the future."
Support Students like Oguntola and Odomore
Philanthropic support from donors is a vital way incredible students like Oguntola and Odomore are able to pursue their dreams at AU. 
"I'm very grateful for this scholarship and the opportunities that I've had," said Odomore. "I know that I will do the same thing for someone else in the future."
You can support students like Adam Odomore and Rachel Oguntola by making a gift at: giving.american.edu.