In the Community
The Humanities Truck Brings Food and Community to DC's Day Laborers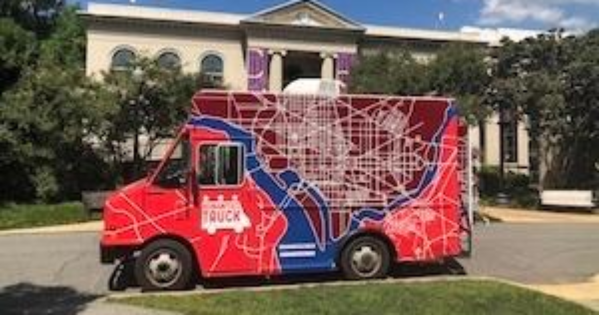 Thanks to the generous support of the Luce Foundation and Andrew W. Mellon Foundation, AU's Humanities Truck engages DC communities by gathering and disseminating research and shared stories. Led by Director Dan Kerr, associate professor of history, the Humanities Truck program is now doing even more—it is helping ease food distribution to people in need impacted by COVID-19.
Humanities Truck Fellows are scholars committed to the practice of community-based research, and to an ethically grounded, collaborative research process as they engage communities in the DC metropolitan region. Fellow Ludy Grandas, a senior professional lecturer at the Department of World Languages and Cultures, has long partnered with Workers United/Trabajadores Unidos of Washington, DC (TUWDC) engaging students in community-based learning projects with the day laborer community in DC. Her year-long Humanities Truck fellowship and student run Eagle Endowment grant from AU's Center for Community Engagement & Service, have contributed to strengthen that relationship with the day laborers.
Now, alongside TUWDC and Food for All, Grandas, Truck fellow Naoko Chun, and a group of volunteers pack 50 bags of groceries each week and use the distinctive Humanities Truck to deliver the food to the parking lot of the only Home Depot in DC. The parking lot of the Home Depot is a gathering spot for those who seek daily employment; many are undocumented immigrants. It was important to Grandas that food distribution occur at the Home Depot parking lot so no one misses an opportunity to work by being elsewhere to get needed food. At the parking lot, Grandas and the staff from TUWDC invite the day laborers to linger and connect as they obtain weekly groceries every Friday.
The distinctive red truck is a familiar sight to the community at this parking lot. As a Humanities Truck fellow in the 2019-2020 academic year, Grandas worked from the mobile workshop to document the day laborer community's contributions to DC's economic, social, political, and cultural life. Grandas and her students gathered oral histories, conducted a mental health and wellness survey, and made short documentaries that trace the lives of day laborers in DC.
The Humanities Truck—a customizable truck that can be outfitted as a mobile exhibition space, recording studio, maker space, or small classroom—also brought a photography exhibit to The Corner. "Invisible Hands: Jornaleros Manos Invisibles: Day Laborers" features the photography of workers who captured their own everyday experiences using their phones' cameras. "Even in plain sight, the jornalero population across the US is largely invisible to the surrounding communities. The laborers are sought after for their low wages, but they have come to embody all sorts of negative stereotypes," Grandas says. "Photography is a powerful means to debunk misconceptions and build community. The jornaleros exhibit is the first step in that direction" The Humanities Truck also toured the exhibit to Georgetown University, Gallaudet University, and the corner of 14th St and U St NW, in front of the DC Mayor's Office of Latino Affairs.
In a previous partnership with Workers United/Trabajadores Unidos of Washington, DC, Grandas' students gathered the firsthand stories of workers at The Corner—their challenges, pride, fears, and dreams. Most left home countries at great peril to build a new life in the United States. Audio and transcriptions of these interviews are preserved on the TUWDC website.
Grandas is one of several faculty affiliated with the Humanities Truck, advancing its mission to work with diverse populations to collect, create, interpret, and curate stories that can return to the communities they originated from and circulate throughout the local region. As we now confront the global pandemic, the Humanities Truck aims to sustain community networks and record social responses to COVID-19. Grandas' work with day laborers in DC is an important part of this record and of strengthening community engagement. More information on the work of the Humanities Truck can be found on their website.